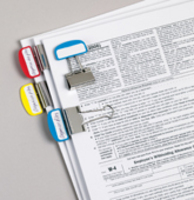 One of our most recent surveys found that 48% of people refer to themselves as paperwork pilers whose primary way of managing documents is to stack them
Melville, NY (PRWEB) June 13, 2008
The editors at Real Simple magazine recently featured some of their picks for the best low-cost organizing ideas on the market. Pendaflex PileSmart Binder Label Clips are among the 'clever finds' taken from the Real Simple organizational Hall of Fame, touted as 'tried, true, and worth repeating.'
This is another milestone for Pendaflex Online Corp, taking them yet another step further in the company's effort to convince consumers that you can still pile and stay organized.
"One of our most recent surveys found that 48% of people refer to themselves as paperwork pilers whose primary way of managing documents is to stack them," said Sharon, Mann, Editor of Keeping Tabs Newsletter. "The problem is that most people create disorganized pile of paper on their desktops, making it difficult to find the things they need. That's where our line of PileSmart products can help. They make it easy to find things so that people can work efficiently."
PileSmart is a line of items specially designed to keep piles of documents organized, keep your workspace clear and quickly help you find what you're looking for.
The PileSmart Binder Label Clips featured in Real Simple magazine let you pile documents on your desk and find them again at a glance. The clips are designed to keep your documents together and provide a quick and easy way to label them by writing on the plastic label's white surface with a ball point pen. PileSmart Binder Label Clips are available in both primary and fashion colors.
About Pendaflex
Pendaflex is one of the world's premier manufacturers of organizational solutions, bringing innovation, efficiency and style to workplace and home settings. Committed to simplifying consumers' lives, Pendaflex produces a broad range of filing and organizational products, as well as provides solutions and resources through our website Pendaflex.com and Pendaflex Learning Center. Located in Melville, NY, Pendaflex is the principal U.S. brand of Esselte Corporation, a $1.2 billion office products company with subsidiaries in 28 countries and distribution in more than 120 countries.
###