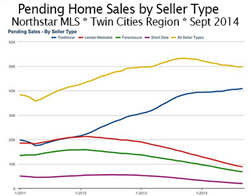 Sellers have been getting back in the market, traditional buyers are active and prices are rising at a normal pace. ~ Emily Green, president of the Minneapolis Area Association of Realtors
Minneapolis, Twin Cities Minnesota (PRWEB) October 16, 2014
September Twin Cities pending home sales shows sharp contrast by seller type, as revealed in Northstar MLS's current housing data. Higher house prices are welcomed by home sellers across the Twin Cities metro, but buyers have thinned out. Home sales lag as the level of would-be sellers in the Twin Cities ebbs and flows with seasonal changes. Following patterns in sell type offers key insights behind the swings in the number of pending home sales.
"Seasonal fluxuations can work in either the home seller's or buyer's favor. By timing your housing transaction, a decline in Twin Cities home sales may also open up another opportunity," says Jenna Thuening, owner of Home Destination. "A deeper understanding of Minneapolis metro real estate demographics and market trends will give home sellers their best advantage. It is interesting to note the huge adjustment in fewer lender mediated sales and higher traditional home sales."
The month of September's 7.1-percent drop in the number of Twin Cities home sales compared to September 2013, indicates a shift toward Minneapolis becoming a home buyers' market. Despite softening demand, the median price of those closings increased 5 percent to $205,000 as foreclosure sales were replaced by more expensive traditional home closings, according to refreshed housing data from the Minneapolis Area Association of Realtors (MAAR).
The current disparity found between the number of sold homes and the upward trend in home prices is the impact of housing market fluxuations. Homestead buyers who previously found it tough to avoid bidding wars with investors are relieved to see their market domination diminishing. Understanding market trends is key for successful Twin Cities home sellers; those who could time the sale of their home when buyers were less abundant were enjoying multiple bids.
Pending Home Sales in the Twin Cities by Seller Type
When comparing which sector defines the seller type, traditional pending home sales in the Twin Cities rose sharply:

Traditional home transactions: $30,602 up +4.8 percent
Lender - Mediated: 6,681 down -40.7 percent * Minneapolis Foreclosed Homes: 5,196 down -37.7 percent
Short Sale: 1,460 down -50.2 percent
All Seller Types: $37,283 down -7.9 percent
Pending Home Sales in the Twin Cities - September 2014
While comparing various property types, single-family pending home sales in the Twin Cities dropped the most:
Single-family homes: $37,289 down -7.8 percent
Townhomes - Condo homes: $11,830 down -1.7 percent * Condos: $3,460 down -3.4 percent
Townhouses: $8,370 down -1.0 percent
All Property Types: $49,691 down -6.7 percent
Pending Home Sale Declines in New Construction Vs Previous Owned Homes
While comparing the rate of decline in both new construction pending home sales and that of previously owned homes, new construction pending home sales in the Twin Cities dropped the most:
New Construction: $3,448 down -9.1 percent
Previously owned homes: $45,829 down -6.3 percent
All Construction Types: $49,691 down -6.7 percent
"Home buyers in the Twin Cities that secured home mortgages in recent years with rates 3.5% to 4% may be reluctant to sell their homes in the coming years if it means forfeiting the exceptionally low rates on their existing home," comments Thuening. Recent buyers who purchased homes with the intent of taking advantage of short-term home price appreciation, may now see pause and shift plans.
About Home Destination - Twin Cities Real Estate:
Home Destination offers a loyal and committed real estate professional service that personally handles all the details of selling or purchasing a Twin Cities home. Highly regarded by peers as a Minneapolis metro expert for over 15 years, gain a skilled representative as guide to make the best possible housing decisions. Helping all home buyer types, from individuals seeking to buy their first home to individuals moving-up to a luxury home, Jenna Thuening has the real estate experience and acumen buyers and sellers benefit from.
Contact:
Jenna Thuening
Web. http://www.homedestination.com
Email. jenna(at)homedestination(dot)com
Tel. 612-396-7832