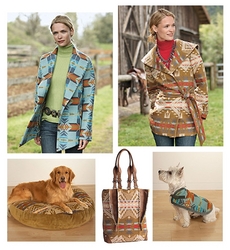 Pendleton jacquards are all throughout my home.
Portland, Ore. (PRWEB) October 23, 2009
In celebration of its 100th anniversary Pendleton Woolen Mills announced today the introduction of a very special Holiday 2009 collection by NBC Today Show correspondent and author, Jill Rappaport. Her new Pendleton by Jill Rappaport Collection features coats, status bags, and because she is a major animal lover, owner of four dogs, and nine horses, a line of animal products using antique Indian trade blanket designs.
An admirer and avid collector of vintage Navajo rugs and jewelry, and Pendleton Indian blankets, Rappaport said, "Pendleton jacquards are all throughout my home." Rappaport's Log home and horse ranch in the Hamptons was featured on the cover of Architectural Digest, June 2007, for the coveted country issue, showcasing many of the Pendleton items. "I wanted to work these wonderful patterns into a collection with fresh appeal for women everywhere, not just women like me who love Western style. And then to be able to incorporate these beautiful blankets into magnificent beds and products for our "fur angels" is a dream come true."
These original designs from the Pendleton by Jill Rappaport Collection will benefit the American Indian College Fund and her new non-profit, The Jack & Jill Foundation, dedicated to animal health and wellness, which is part of Tails of Hope, an organization that educates pet owners on medical breakthroughs and advancements for cancer and life threatening diseases.
"Nothing is in the marketplace today that carries both the mark of authenticity and the personal style of Ms. Rappaport than this new collection," says Pat Fowler, who heads the Womenswear Division for Pendleton Woolen Mills. "This collection has broad fashion appeal, and at the same time is rich with history. Women (and their dog friends) everywhere should be proud to wear these pieces, both for their individual style and for the contribution they have made through their purchase."
In addition to working on this collection with Pendleton, Rappaport is the best selling author of People We Know, Horses They Love, Mazel Tov celebrities Bar and Bat Mitzvah memories. Her third book called Jack and Jill, A Miracle Dog With A Happy Tail To Tell, is in bookstores now. And coming out this month, her next children's book is titled 500 Cats.
The Pendleton by Jill Rappaport Collection is available through http://www.pendleton-usa.com, at Pendleton stores nationwide and through select department and specialty stores.
About Pendleton Woolen Mills
Pendleton Woolen Mills proudly celebrates 100 Years of Weaving America's Spirit in 2009. Pendleton products, including womenswear, menswear and home collections, are available at select department and specialty stores, and more than 70 Pendleton retail stores nationwide. Pendleton merchandise is also available at the company's web site (http://www.pendleton-usa.com), in Pendleton's seasonal catalogs, or toll free at 1-800-649-1512.
###