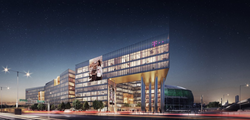 A world-class project deserves the world-class performance that comes when PENETRON's crystalline technology is mixed with an optimal concrete mix.
East Setauket, New York (PRWEB) April 03, 2017
The new, futuristic headquarters of Magyar Telekom counts on PENETRON crystalline technology for a robust and waterproof foundation. Set for a 2018 inauguration, the initial phase of construction of the new headquarters – in particular the below-ground concrete structures – was completed in March 2017.
Durability is a prime concern for engineers building in critical environments. This demands concrete structures to have low permeability, low shrinkage, self-healing capabilities and resistance to water penetration and the effects of deterioration, even under high hydrostatic pressure. The active ingredients in PENETRON's crystalline technology react with water to form insoluble crystals, which fill hairline cracks, pores and voids.
"With over 58,000 m2 (624,300 square feet) of office space, the Magyar Telekom building is one of our country's largest office development projects in recent memory," adds Sándor Jónás, General Manager of PENETRON Hungary. "And with a construction site not far from the shores of the Danube River, it obviously needed an optimal and robust waterproofing solution for the high groundwater situation."
Designed by TIBA Architects Studio, the project followed extensive environmental and sustainability criteria – such as green rooftop gardens with a 200-meter running track – and also features a 1350-seat auditorium, a two-floor underground garage (about 16,500 m2 / 178,000-square feet), a 300-bike parking area, four above ground floors of office space, a fitness gym and a 300-person conference room.
Working with the local PENETRON team, Market Zrt, the general contractor, specified PENETRON ADMIX to treat 6,000 m3 (7,900 cubic yards) of concrete for the parking garage structures in the below-ground floors. Easily mixed in during batching and unaffected by climatic conditions, PENETRON ADMIX becomes an integral part of the concrete matrix for the life of the concrete.
"The impressive dimensions of the Magyar Telekom headquarters are an ideal showcase for the ease of use of PENETRON ADMIX," adds Robert Revera, President & CEO of The PENETRON Group. "A world-class project deserves the world-class performance that comes when PENETRON's crystalline technology is mixed with an optimal concrete mix."
Magyar Telekom is Hungary's leading telecommunications company and the company's new multi-floor headquarters is located in the stadium neighborhood of Ferencváros (next door to Budapest's Groupama Arena) and has office space for 4,500 employees.
The PENETRON Group is a leading manufacturer of specialty construction products for concrete waterproofing, concrete repairs and floor preparation systems. The Group operates through a global network, offering support to the design and construction community through its regional offices, representatives and distribution channels.
For more information on PENETRON waterproofing solutions, please visit penetron(dot)com or Facebook(dot)com/ThePenetronGroup, email CRDept(at)penetron(dot)com, or contact the Corporate Relations Department at 631-941-9700.