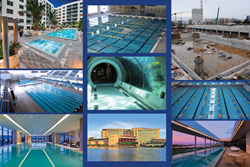 Over the years, pools, aquariums and aquatic facilities have become something of a specialty for PENETRON.
East Setauket, New York (PRWEB) July 05, 2017
Last month's inauguration of the Dagály Aquatics Complex in Budapest, Hungary – also the site of next week's FINA World Swimming Championships – highlight the important supporting role PENETRON crystalline technology plays in the construction of swimming pools both large and small.
Residential, hotel and competitive swimming pools are largely constructed of concrete. However, understanding the technical issues related to avoiding leakages – keeping clean water in and groundwater out – is necessary for a reliable waterproofing solution.
"Waterproofing issues can always arise, even with a durable concrete mix that complies with EN 206-1:2006, such as specification, performance, production and conformity of the mixture, and other standards," explains Christopher Chen, Director of The PENETRON Group. "Holes and cracks, honeycombing, equipment penetrations, structural design flaws, and other forms of damaged concrete can quickly appear, even in new swimming pools."
In general, large concrete structures that hold massive amounts of water must be able to resist high hydrostatic pressure. As described in "Report on Chemical Admixtures for Concrete," published by the American Concrete Institute (ACI), "permeability-reducing admixtures for hydrostatic conditions (PRAHs), i.e. crystalline admixtures like PENETRON ADMIX, resist water penetration due to hydrostatic pressure and have proven to be the most effective PRAH products with clear advantages over hydrophobic materials based on other mechanisms or ingredients.
"Over the years, pools, aquariums and aquatic facilities have become something of a specialty for PENETRON," adds Mr. Chen. "The following selection of projects from around the world delivers a water-tight argument for our technology."
Dagály Aquatics Complex, Budapest, Hungary
The architects and FINA engineers responsible for the Dagály Aquatics Complex specified PENETRON crystalline technology for the Aquatics Complex and further FINA construction projects. To counter the challenge of the high water table at the construction site, the foundation and pool structures were treated with PENETRON ADMIX during batching to ensure a robust waterproofing solution.
Sheraton Puerto Rico Hotel & Casino, San Juan, Puerto Rico
The Sheraton Puerto Rico Hotel & Casino, adjacent to the city's marina, features over 500 hotel rooms and a fourth floor outdoor infinity pool. The hotel architects chose PENETRON ADMIX to treat 1,200 cubic yards of concrete for the top-floor pool deck and the basement-level water cisterns. An added bonus: this hotel is the only U.S. Green Building Council / LEED-certified hotel in the Caribbean and the first such Sheraton hotel in the world.
Cumming Aquatic Center, Cumming, Georgia
The Cumming Aquatic Center has two indoor pools – a 50-meter competition pool and a 25-yard instructional pool – and an outdoor leisure pool that features a slide, a lazy river, and play structures for children. All concrete used for the pool structures was treated with PENETRON ADMIX.
The Manor: Lauderdale by the Sea, Ft. Lauderdale, Florida
This 363,000 square foot, eight-story, mid-rise luxury apartment complex has 264 units atop a single story parking garage and includes an infinity pool (situated directly on top of the parking area). The swimming pool shell and terrace were treated with PENETRON ADMIX and the construction joints were sealed with PENEBAR SW-55 to ensure a durable structure that would never leak water into the parking area.
Hilton Batumi Hotel in Batumi, Georgia
The newest member of the Hilton stacks 247 rooms in two angular 22-floor towers, located adjacent to the region's renowned natural springs and the Borjomula River. Thanks to its Green Label certification, PENETRON was selected from a list of competitive materials to treat the concrete mix during construction as a non-toxic waterproofing solution for the indoor hotel pool.
Kelp Tank/California Science Center, Los Angeles, California
The Kelp Tank is a 188,000-gallon (712,000 liters) tank with sharks, moray eels, rays, rockfish and spiny lobsters (and over 1,500 other fish) where kelp algae grow as large as trees. PENETRON and PENECRETE MORTAR were used on the inside of the Kelp Tank to ensure total waterproofing of the entire concrete water containment structure.
Talkatora Stadium, New Dehli, India
The total renovation of the Olympic-size racing and diving pools and a new warm-up pool specified PENETRON topical material for the concrete surfaces, as well as PENETRON ADMIX for the reconstruction of the existing pools and the warm up pool. Existing construction joints were repaired with PENECRETE MORTAR, and PENEBAR SW-45 was used for 360 meters of new construction joints.
Muxiyuan Sports Academy, Beijing, China
As the main training base for the Chinese National Aquatics Team, the Academy was renovated with topical applications of PENETRON to waterproof more than 3,500m2 of concrete in all the pools.
Hilton Barra Rio de Janeiro Hotel, Rio de Janeiro, Brazil
Opened in time for the Rio 2016 Summer Olympics Games, this 298-room hotel features a roof-top pool (with a view!) that was treated with PENETRON ADMIX for an integral waterproofing solution.
"Swimming pools are a classic PENETRON application," says Mr. Chen. "The integral crystalline technology has proven to deliver superior performance in resisting water under pressure when compared to water-resistant layers or bituminous membranes applied to the concrete surface."
The PENETRON Group is a leading manufacturer of specialty construction products for concrete waterproofing, concrete repairs and floor preparation systems. The Group operates through a global network, offering support to the design and construction community through its regional offices, representatives and distribution channels.
For more information on PENETRON waterproofing solutions, please visit penetron(dot)com or Facebook(dot)com/ThePenetronGroup, email CRDept(at)penetron(dot)com, or contact the Corporate Relations Department at 631-941-9700.