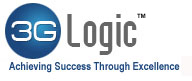 Let 3G Logic be Your Safe hand for Expert SEO Consultancy
Noida, Uttar Pradesh (PRWEB) June 20, 2012
Google has been constantly updating its algorithms so that web users can find the best and most relevant information from the sites ranking on top of the SERPs. This not only enhances the option to find quality information on the website but also removes irrelevant websites using spam techniques to attain a higher ranking in the search engines.
3G Logic is a reputed SEO Company India having professional SEO experts with years of experience and thorough knowledge of latest trends of algorithm updates of Google and other search engines. Google has made these changes in its algorithm to cut down spam, remove weak websites and penalize duplicate content. To avoid getting penalized by Google, it is vital to crack down back linking techniques and create strong sites by focusing more on crisp and informative content and less on black hat SEO techniques.
http://www.3g-logic.com caters to the growing demands of internet marketing industry with its varied range of customized SEO solutions; it has successfully handled a long list of clients. Their skilled and highly qualified search engine optimizers provide SEO Services India to attain high search engine rankings and generate good amount of traffic to the website. The company believes that success can be attained only through hard work and by adopting the right SEO strategy for the businesses. For this, it is important that market analysis, website research and appropriate keywords are selected. This can only be done by SEO professionals having proficiency in this field as this will save the sites from getting slapped by Google Penguin and improve their lost rankings.
About the Company: 3G Logic is a professional SEO Services provider offering effective means to drive visitors to the website and to build the website's organic search engine rankings at an affordable price.
For more information, please visit:
http://www.3g-logic.com/internet-marketing/seo-services-india.html