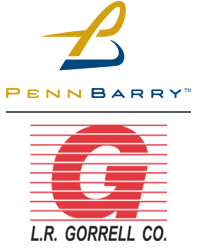 PennBarry offers the leadership and service we will be proud to share with the Engineering and Construction community here in the Carolinas.
Plano, TX (PRWEB) June 07, 2013
For over 60 years, L.R. Gorrell Company has been an independent manufacturers' representative for commercial and industrial HVAC systems, primarily focusing on fans and sheet metal products, such as oval and spiral pipe, variable air volume terminal units, air distribution products, dampers and louvers. To represent their many lines, they have assembled a number of experienced, knowledgeable sales people that consider both the application and cost effectiveness of each solution.
With their home office based in Raleigh, L.R. Gorrell Company operates out of seven total offices, five of which are located in North Carolina (Raleigh, Asheville, Charlotte, Greensboro, and Wilmington) with another two in South Carolina (Greenville and Charleston). Their ability to be accessible to their customers not only strengthens personal relationships, but also facilitates their involvement in design-build projects. Some of their most recent projects include the seventeen-story Cap Trust (mixed use tower) in Raleigh, multiple buildings for Bachelors Enlisted Quarters at Camp Lejeune, and the new Cherry Hospital in Goldsboro.
"Partnering with a representative that is involved in the engineering community is crucial," said Paul Christiansen, Vice President of Sales and Marketing at PennBarry. "They (L.R. Gorrell Company) invest in their customers by developing strong relationships and providing top-notch customer service and application support."
To meet the needs of ever-changing construction schedules and tight turnarounds, L.R. Gorrell Company relies on their warehouse in Raleigh, which houses a wide selection of HVAC products. Stocked items include fire dampers, louvers, control dampers, curbs, duct work accessories as well as a variety of PennBarry supply and exhaust fans. Complete with engineering, application, and product support services, L.R. Gorrell continues to be a top resource for a variety of ventilation solutions.
"The L.R. Gorrell Company is proud to serve our Carolina markets, representing quality HVAC equipment Manufacturers and adding value for our customers. PennBarry offers the leadership and service we will be proud to share with the Engineering and Construction community here in the Carolinas," said Matthew Boss, Sales Manager of L.R. Gorrell Company.
PennBarry is committed to providing sustainable, innovative ventilation products and solutions through industry involvement, personnel and facility investments, and training programs for architects, building owners, contractors and consulting engineers. Partnerships with knowledgeable, service-oriented manufacturer representatives that share similar values and goals continue to play a large part in PennBarry's growth and success.
For more information about PennBarry ventilation products or to obtain a copy of PennBarry's Product Catalog, visit http://www.lrgorrell.com or http://www.PennBarry.com.
About PennBarry
PennBarry is a leading manufacturer of commercial and industrial ventilation products, including roof and wall exhaust centrifugal fans; ceiling, wall, and inline centrifugal fans; roof supply centrifugal fans; square and round centrifugal fans; wall mounted axial fans; hooded roof axial fans; upblast roof axial fans; gravity ventilators; roof curbs; utility vent sets; freestanding centrifugal fans; industrial and material handling fans; tubular centrifugal inline fans; mixed flow centrifugal fans; plug and plenum fans; wall mounted propeller fans; tubeaxial fans; vaneaxial fans; bifurcator fans; fume exhaust; indoor and outdoor energy recovery units; as well as kitchen hood make-up air units and exhaust fans. PennBarry is a division of Air System Components, Inc. (ASC). ASC is a subsidiary of Air Distribution Technologies, Inc.