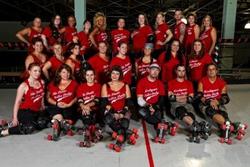 Roller Derby is really growing in popularity across the Philadelphia area and we expect even more fans to come out and see us this year
Philadelphia, PA (PRWEB) September 28, 2010
Penn Jersey Roller Derby (PJRD), the co-ed amateur roller derby league based in the tri-state area, is buckling its chin strap in preparation for the upcoming 2010-2011 season. The group promises to bring back its classic rough-and-tumble contests as well as offer new forms of action with the unveiling of its new banked track.
The league coaches, Judy "The Polish Ace" Sowinski and Arnold "Skip" Schoen, strive to maintain the traditional values of the 75 year old American-born sport by ensuring that their players combine athleticism with entertainment. The 60 league members - men and women between the ages of 18-45 - are not only elite athletes with unusually high endurance and polished fighting abilities, but they are also great performers who possess their own unique and cool player personas as well as exaggerated team uniforms.
PJRD is a four team league which includes the Hooligans (men's team), She Devils (women's travel team) and two intra-league women's teams - the Sadistic Sweethearts and Dishonor Roll. Four truly exciting players to keep your eye on during the 2010-2011 season are Brandon "Beater Griffin" Segal, Kristin "Bruise Suede Shoes" Refsnider, Carol "Wiggy Smalls" Herwig and Katie "Hellanor Rollsevelt" Karalis.
"Roller Derby is really growing in popularity across the Philadelphia area and we expect even more fans to come out and see us this year," said Kelly "Deuces Wild" Cash, co-captain of Dishonor Roll. "The teams are really excited about this upcoming season and we're all ready to provide our supporters with even more action like high speed collisions and intense pile ups."
Although the teams currently skate on flat surfaces, they will begin playing league games on a traditional banked track, one of just 12 in the United States, in early 2011. Not only will this rink allow players to skate at higher speeds, it will offer fans even more intense action.
Penn Jersey Roller Derby 2010 Schedule (Check the League Website for 2011 Games)
Saturday, October 2, 2010
Penn Jersey Roller Derby v. Antihero Derby Alliance
International Sports Center
Mount Laurel, NJ
Saturday, October 23, 2010
Penn Jersey Roller Derby Halloween Game
International Sports Center
Mount Laurel, NJ
Friday, November 5, 2010
Penn Jersey Roller Derby Jell-O Wrestling Tournament
Sisters Night Club
Philadelphia, PA
Saturday, November 6, 2010
Hooligans v. Vice Squad
International Sports Center
Mount Laurel, NJ
Saturday, November 20, 2010
Penn Jersey Roller Derby v. Man's Ruin Roller Derby
The Mid-Hudson Civic Center (Conference Championship)
Poughkeepsie, NY
Saturday, December 11, 2010
Lil Devils v. Juvenile Delinquents
International Sports Center
Mount Laurel, NJ
About Penn Jersey Roller Derby
Founded in 2005, Penn Jersey Roller Derby (PJRD) is a skater owned and operated league based in Philadelphia, PA. PJRD consists of four teams and 60 male and female players from the tri-state region. They are also the co-founder and member of the Old School Derby Association (OSDA), a national organization of women's, men's, and co-ed roller derby leagues interested in keeping the sport "real, rough and unpredictable." For more information, visit http://www.pennjerseyrollerderby.com or email info(at)pennjerseyrollerderby(dot)com.
Media Relations Contact:
Jennifer Spindola
CPR Media Services
877-602-9880 Ext. 101
jennifer(at)cprmediaservices(dot)com
###