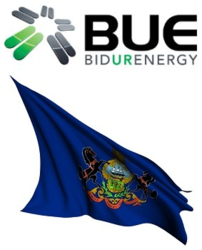 Buffalo, NY (PRWEB) December 27, 2012
This week, BidURenergy, Inc. (BUE) announced its strategy for continuing its campaign to provide significant energy savings to clients in Pennsylvania. The company is working tirelessly until all businesses are taking advantage of the retail energy market in the state of Pennsylvania.
BUE announced its goal of reaching 3,000 clients in the Commonwealth by the summer of 2013. There is plenty of money to be saved in Pennsylvania. The firm is working hard to reach this lofty goal and has been adding staff members to various departments to keep client satisfaction at its current level.
With over 1,100 clients in Pennsylvania using upwards of 880 million kWh, BidURenergy, Inc. has contributed to the savings of millions of dollars, working as a consultant to businesses. BUE specializes in consulting its clients on energy procurement and has market leverage allowing for a great deal of savings.
BUE works to assist clients with navigating the complex market of wholesale energy. They consult clients on energy procurement, answer their questions, and help them save money from participating in the retail market, along with offering their bill auditing services to clients worried about billing errors.
About BidURenergy, Inc. - BUE is an electricity and natural gas consulting firm with thousands of clients across the nation, specializing in energy procurement auction administration, and utility bill auditing. The firm's energy services are available to industrial, commercial, and retail companies. More information is available at http://www.bidurenergy.com