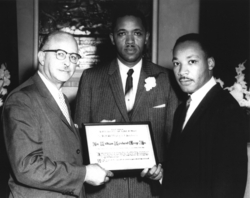 I was extremely honored to speak at the church's luncheon celebrating the life and legacy of Dr. King
Philadelphia, Pennsylvania (PRWEB) February 12, 2011
Philadelphia attorney Royce W. Smith of personal injury law firm Feldman Shepherd Wohlgelernter Tanner Weinstock & Dodig, delivered the keynote address at the Martin Luther King Day Luncheon hosted by the Salem Baptist Church of Jenkintown, Pa., on Jan. 15, 2011. The event was a homecoming for Smith, whose grandfather, the late Rev. Robert Johnson Smith, served as the church's pastor for 40 years. The elder Smith had been a friend and colleague of Dr. Martin Luther King, Jr. As a result of their friendship, King visited Salem Baptist Church twice during Smith's pastorship. More than 300 congregation and community members were in attendance.
"I was extremely honored to speak at the church's luncheon celebrating the life and legacy of Dr. King," said Royce Smith. "I am proud of my family's legacy of activism and close ties with the Baptist Church. Dr. King, my grandfather and their contemporaries were true freedom fighters who paved the way for African Americans."
Each year, the elder Smith celebrated Martin Luther King Day by reading to his congregation a letter he had written to Dr. King. Before the luncheon attendees, the younger Smith delivered his keynote address in the form of a letter to his grandfather. He relayed his desire for his grandfather to have been present for President Barack Obama's November 2008 election.
"Celebrate the victory, for it is yours," Smith said in his letter. "And the victory is Dr. King's. For he, and other patriots like him, were as critical to President Obama's election, as every vote. We all know that without the civil rights movement there would not be a President Obama."
Smith stated that to truly understand Dr. King's legacy and the love that he preached, one "must understand that he called for love of your fellow man to be injected into our public policy so as to create a peaceful world."
Smith's keynote address was featured in a Jan. 20, 2011, Philadelphia Tribune article.
Smith, an advocate himself, represents people who have been injured in a wide range of complex civil matters. In the past four years alone, he has served as lead or co-counsel in cases that have garnered millions in verdicts and settlements for his clients. He joined Feldman Shepherd in 2010. Smith's extensive practice experience includes wrongful death, medical malpractice, birth injuries, product liability, and civil rights matters, to name only a few. A frequent author and lecturer, Smith serves as a trial advocacy and evidence instructor for the Drexel University School of Law Trial Team. He has been recognized by Thomson Reuters, published annually in Philadelphia magazine, as a 2010 Pennsylvania Super Lawyer® Rising Star.
About Feldman Shepherd Wohlgelernter Tanner Weinstock & Dodig
Feldman Shepherd Wohlgelernter Tanner Weinstock & Dodig has handled cases producing some of the largest verdicts and settlements in Pennsylvania. The firm represents plaintiffs in significant personal injury, class action, and other complex civil litigation. Clients include victims of medical malpractice, defective products, unsafe workplaces, motor vehicle accidents, legal malpractice and insurer misconduct.
# # #