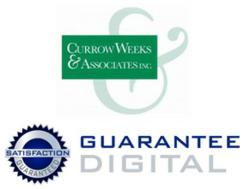 Partnering with Guarantee Digital and Currow Weeks was an easy decision, as they have deep experience on both the newspaper and digital side – they understand our business."
Pennsylvania (PRWEB) September 26, 2012
Pennsylvania Newspaper Association (PNA) members will now be able to expand their Digital Services offering for Local Merchants to include foremost solutions for search, mobile, social, video, email and text marketing, as well as tools to help them optimize their online presence and safeguard their reputations.
PNA President Teri Henning said, "This partnership will allow our members to quickly launch a private label Digital Agency for their local markets and offer all the online services and solutions local merchants need to connect with today's busy online consumer. Partnering with Guarantee Digital and Currow Weeks was an easy decision, as they have deep experience on both the newspaper and digital side – they understand our business."
Daryl Hively, Founder and CEO of Guarantee Digital commented, "PNA realized that helping its Members open up a Digital Agency was a tremendous opportunity to tap into true incremental revenue. Our turn-key solution, which provides best of breed products, training, merchant seminars and complete fulfillment and customer service after the sale, will have PNA Newspapers launched and adding revenue to the bottom line quickly."
Click here to learn more about the Guarantee Digital Currow Weeks Media Partner Program.
Everton Weeks, President of Currow Weeks added, ""We think local Publishers will like our program, especially the Sales Support, which can include a Telemarketing team for Appointment Setting and in-market Digital Sales Experts to jumpstart sales. The entire program can be cash positive from day one. This partnership brings so much more than just a good idea. We assemble all the resources needed to make it an instant revenue success.
Beyond the Digital Agency program, Currow Weeks will also offer members Revenue Optimization Programs for Traditional Print products, Executive Recruitment & Assessment, Outsourced Sales Teams and more. These programs are helping even small newspapers generate $500,000+ in traditional print media products.
About the Pennsylvania Newspaper Association:
The PNA, founded in 1925, is the nonprofit trade association for print and online media in the Commonwealth of Pennsylvania. Its mission is to advance the interests of Pennsylvania news organizations, promote the importance of a free and independent press and provide a forum for critical and innovative thinking about the future of journalism and the newspaper industry. It has more than 300 newspaper and media members, including daily, weekly, and college newspapers and online publications.
About Guarantee Digital:
Founded in 2011, Guarantee Digital is a Metro Milwaukee based digital marketing agency that specializes in helping local merchants and media companies grow their business. The Guarantee Digital Media Partner program allows Local Media to launch a fully branded digital agency in 6 weeks or less. The turnkey program includes best of breed digital solutions, sales training, merchant launch seminars and complete fulfillment and customer service after the sale. Clients include Pittsburgh Post-Gazette and The Buffalo News. Find out more by visiting http://www.guaranteedigital.com/media-prtners/, calling 800-583-9113 or email Daryl Hively at daryl(at)guaranteedigital(dot)com
About Currow Weeks & Associates
Founded in July 2011, CurrowWeeks & Associates was created by former EVP Newspapers for the Morris Publishing Group, Jim Currow, and former Corporate VP Advertising for the Morris Publishing Group, Everton J. Weeks. CurrowWeeks & Associates Inc. is a consulting firm that specializes in helping media Companies succeed in the areas of revenue growth and people development. The firm's services include; Revenue Optimization Programs for Digital & Print, Executive Recruitment & Assessment, Outsourced Sales Teams, Event Marketing and more. Jim and Everton have been recognized on numerous occasions for their outstanding leadership and innovative revenue programs. For additional information, please visit: http://www.CurrowWeeks.com or call 864-868-4496