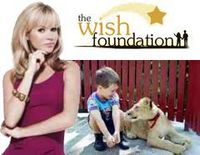 I am delighted to be supporting their work
(PRWeb UK) June 8, 2010
Britain's Got Talent judge Amanda Holden is throwing her weight behind a penny auction website which raises money for children with serious or terminal illnesses.
Holden, 39, has put her name to the Wish Foundation, a UK grant making trust, which raises cash for children in conjunction with online retailers.
The site offers visitors the chance to buy cars, holidays, electronic items and many more, worth up to £20,000.00 each, by placing bids costing from 50 pence each, on the Foundations online reverse auctions.
Yesterday Amanda said: ''A healthy, happy child is an absolute blessing to any parent. Being the parent of a child suffering from any serious or life limiting illness is simply unimaginable.
''The Wish Foundation is raising funds in order to grant a cherished wish for as many children suffering from serious or terminal illnesses as possible.
''The Foundation works with registered charities such as Dreams Come True, who have been granting wishes for children in the United Kingdom for over 25 years.
''I am delighted to be supporting their work.''
The site was launched on May 3rd as http://www.wishfoundation.org.uk.
Visitors who place the lowest unique bid win the right to buy the chosen product for just 1p.
Each successful auction means a specified Wish Donation Amount which is used to grant wishes for terminally and seriously ill children through specialised UK registered charities such as Dreams Come True.
The site offers visitors a chance to buy items such as a MINI cooper, Honda CBR1000rr motorcycle, Disney Holiday, Caribbean cruise, and 11 other super products for just 1 penny each.
###