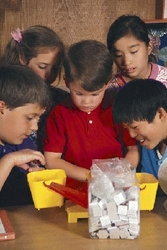 The Best in North Hills, Schools & Education Services
North Hills, Ca. (Vocus) October 15, 2009
Penny & Peggy Nairn 24 Hour Childcare, one of the first known to be 24 hour licensed child care facilities in the Los Angeles area, is celebrating 25 years of providing quality childcare service 24 hours a day a seven days a week. Childcare is provided for ages Newborn through 12 years old, including special children. Penny & Peggy Nairn 24 Hour Childcare has been recognized for community support to low income families.
Penny & Peggy Nairn 24 Hour Childcare has received many Certificates of Appreciation from the City of Los Angeles, L.A. Mission College, NAEYC and New Directions to name a few. Penny & Peggy Nairn 24 Hour Childcare has been featured in the news and newspapers several times including the following: CNN, NBC, KCOP, L.A. Times, & L.A. Family Magazine. In September of 2009 the child care facility received an award for "The Best in North Hills, Schools & Education Services" from the US Commerce Association. The school is honored to receive this distinguished award from the US Commerce Association. Their positive image has been created through their community and their customers they have served Since 1984.
Penny & Peggy Nairn 24 Hour Childcare provides childcare for children of every economic background in a multicultural setting. The school accepts subsidized childcare payment programs and has worked with the following organizations over the past 25 years: Department of Social Services, Department of Children & Family Services, Child Care Resource Center, North Valley Regional Center, & Crystal Stairs.
This small company provides free meals to the children they serve with the assistance of the California Department of Education Nutrition Services. Transportation is also provided to and from school for school age children. Care is provided for the family as a whole for children of all ages.
Future plans for the company are to continue to meet the needs of their growing community and constantly try to improve the quality of care provided for every child: Infants, Toddlers, Pre-School, Before & After School under their care and supervision.
For more information please visit our website at http://www.childcare24hours.com.
###