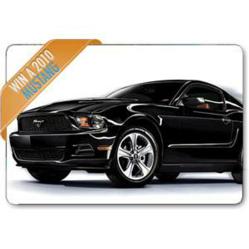 Zeekler has finally made those tickets affordable and even fun to win for regular people like me!
Lexington, NC (PRWEB) January 10, 2012
Zeekler.com, an entertainment/style shopping website, is kicking off 2012 by offering a BOGO (Buy One Get One Free) promotion for VIP Bids. These VIP Bids can be used on any or all of the following premium auctions:

A luxury vacation for two
A Ford Mustang
$5000 cash
2012 Super Bowl Tickets
Any existing or new member that registers and purchases VIP Bids from now through January 31, 2012 will be eligible to bid in the four premium auctions.
Online shoppers have been flocking to penny auction websites like Zeekler's to scoop up great deals on some of the most sought-after products such as: electronics, gift cards, video games, antiques, and collectibles. Who wouldn't want to win a brand-new iPad 2, laptop, Xbox, Kindle, or high-definition TV for a fraction of the retail cost? What sets Zeekler.com apart from other penny auction sites is that Zeekler.com offers auctions to popular travel destinations, sporting events, cash and cars, in addition to the items traditionally found on auction sites.
"Zeekler has been wildly successful as both an entertainment/shopping site and affiliate network in 2011, and we wanted to expand and share our brand of happiness and success with others. I couldn't think of a better way to do that than by bringing sports, travel, luxury transportation and entertainment/style shopping together," said Dawn Wright-Olivares, Zeekler Chief Operations.
Zeekler.com plans to offer even more travel packages, big sporting events, luxury vehicles and more cash in the near future.
"I'm a huge sports fan and would love to get to the big games like the Super Bowl, March Madness Events and NHL Stanley Cup Championship but those tickets are hard to come by and are cost prohibitive to most families. Zeekler has finally made those tickets affordable and even fun to win for regular people like me!" said Nick Cammarata, Zeekler shopper.
Zeekler.com offers a variety of auction types to choose from: "Regular Penny Auctions," "Falling Auctions," "Beginner Auctions" and "Premium Auctions," giving customers a variety of ways to bid based on their comfort level.
How Zeekler.com works:
Register and purchase bid packs to participate in entertainment shopping.
Retail bids begin at $32.50 for 50 bids
VIP bids begin at $25 for 25 bids

Browse the auctions and bid to win great products at big savings
Register and purchase Premium VIP Bids today through January 31, 2012, and you could be heading on a tropical vacation, driving a Ford Mustang, spending $5000 in cash or cheering your favorite team at the Super Bowl.
About Zeekler
Zeekler is are owned by Rex Venture Group LLC, d/b/a Lighthouse America, a US (NV) company. The company was established on June 24, 1997.
The President and CEO, Paul Burks is the hands-on manager of Zeekler.
###