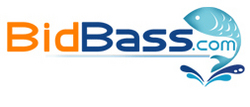 Buy it Now gives bidders a 100% risk free way to participate in our penny auction
Los Angeles, CA (PRWEB) March 25, 2011
Penny auction site BidBass.com sold an iPad 2 for a fraction of the average retail price. The winning bidder ended up investing 300 bids.The winning bidder ended up investing 300 bids (at an approximate value of 70¢ per bid) plus the cost of the winning bid ($6.09) and a shipping and handling charge. Overall, the winning bidder spent approximately $216.09 to purchase a $498 iPad 2.
BidBass.com's Grand Opening marked several other milestones. The site removed hidden reserves and has instituted risk free bidding through its "Buy it Now" option. "Buy it Now" is a feature that gives BidBass bidders who lost a penny auction the opportunity to use the value of their lost bids as a discount towards the retail price of the item they bid on. So, for example, if a losing bidder used 150 bids to bid on a product with a retail value of $400, they can apply the value of those bids (70¢ per bid, or $105) and purchase the same item as the one they were bidding on for $295 ($400 - $105). "Buy it Now gives bidders a 100% risk free way to participate in our penny auction," said BidBass founder.
BidBass.com will continue to offer "Buy it Now" on its auctions given the initial response, two bidders used the "Buy it Now" option to purchase an iPad2. Overall BidBass sold dozens of products during its Grand Opening, to the satisfaction of its participants. Sunday there will be another iPad 2 penny auction March, 27, 2011 with "Buy it Now" enabled.
About BidBass.com
BidBass.com is a new generation Penny Auction destination where top electronics, luxury goods, and gift cards sell for a fraction of the retail price! BidBass is devoted to offering the best in customer service to bidders. BidBass strives to create a safe, user-friendly, and hassle-free environment to enjoy the Penny Auction experience. BidBass maintains a high quality selection of products from trusted brands to be featured in the penny auctions.
BidBass.com is a Better Business Bureau affiliated company based in sunny Southern California right here in the USA. BidBass holds high accountability for the safety and security of our consumers and their transactions. To ensure security, 256 Bit SSL Security is being used for all transactions site-wide. Since BidBass.com is certified by both TrustE and McAfee Site Secure, members can be assured that personal information is both safe and confidential.
###