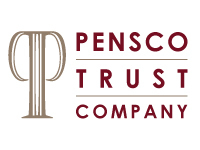 San Francisco, CA (PRWEB) March 2, 2010
PENSCO, Inc., the parent company of PENSCO Trust, today announced the appointment of Tom W. Anderson, 65, to the position of Vice-Chairman of the Board of Directors. Mr. Anderson, the Company's founder, had been PENSCO's President and Chief Executive Officer for the past twenty years. In addition to his duties as a member of the Board, Mr. Anderson will be responsible, in this new position, for development of strategic alliances, oversight of government relations and management of regulatory and industry relationships. Mr. Anderson is a recognized national expert, keynote speaker and author on the subject of retirement planning and self-directed IRAs. He has been frequently quoted in business magazines and publications and was among a small group of financial experts chosen in March of 2009 to advise President Obama's Commission for the Future of the Financial Industry in America.
PENSCO also announced the appointment of Kelly A. Rodriques, 46, as a member of its Board of Directors and as its new President and Chief Executive Officer, replacing Mr. Anderson in that position. Prior to joining PENSCO, Mr. Rodriques – who has a proven track record as a leader of high-growth companies - was with Ignition Growth Capital, a private equity firm located in Seattle, where he held the position of Operating Partner. Before joining Ignition, Mr. Rodriques was Chief Executive Officer of Totality Corporation, a San Francisco-based company providing members of the Fortune 500 with managed services and software for high transaction volume business models. During his tenure with Totality, which was acquired by Verizon Communications in 2006, the Company's annual revenues increased from $12 million to over $95 Million. Mr. Rodriques held earlier positions as Chief Executive Officer of Novo/Publicis, an internet marketing and development company responsible for the development of internet businesses for organizations like ETrade and Orbitz, and as the founding director of Ogilvy and Mather's Interactive Group. Prior to his career in business, he was a member of USA Track and Field and competed in the 1986 World Games in Helsinki, Finland.
In making these announcements, Thomas C. Roberts, PENSCO's Chairman remarked, "We are delighted to welcome Kelly Rodriques to the Company; he brings a wealth of business talent and experience to the organization, and we expect him to play a crucial role in our plans for future growth. At the same time, we are extremely pleased that we will continue to benefit from the proven experience, expertise and insight of Tom Anderson, who has been largely responsible for PENSCO's extraordinary success during the past twenty years."
ABOUT PENSCO: PENSCO, Inc., through its subsidiary, the PENSCO Trust Company, provides custodial services to holders of self-directed IRA accounts, offering clients the ability to invest their IRA funds in a wide variety of approved assets, including non-traded assets such as real estate and private placements. Founded in 1989 and a recognized leader in its industry, PENSCO has offices in New Hampshire and California and currently holds more than $3.0 billion in client assets under administration.
###