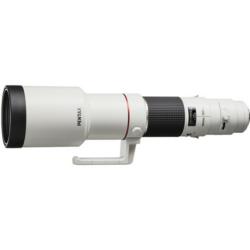 B&H Photo is currently stocking the Pentax DA 560mm f/5.6 ED AW super telephoto K-mount lens.
NYC, NY (PRWEB) February 12, 2013
Pentax K-mount lens is the HD Pentax DA 560mm f/5.6 ED AW HD super-telephoto lens with a 35mm-equivalent 859mm focal length.
The lens has an AF driving motor installed in its barrel, which promotes smooth autofocus operation. It also features a multi-layer HD Coating, yielding sharp and clear images free of flare and ghosting.
The Pentax DA 560mm f/5.6 ED AW telescope-type optical design and two extra-low dispersion (ED) lens elements limit chromatic aberration around the image, and its rounded diaphragm blades provide smooth bokeh in the out-of-focus areas. The lens barrel is also equipped with a removable C-PL circular polarizing filter holder for using filters that further reduce unwanted reflections. The lens also features 29 special seals that make it both dust and weather resistant.
Product Highlights
Equivalent to 859mm in 35mm Format
Compatible with Pentax K-Mount
HD and SP Coatings Improve Image Clarity
ED Elements Reduce Chromatic Aberration
DC Motor for Smooth Autofocus
A built-in DC driving motor promotes smooth auto focusing, which can also be deactivated using the Quick-Shift focus system to instantly switch between AF and MF modes.
B&H Photo is currently stocking the Pentax DA 560mm f/5.6 ED AW lens
A built-in filter holder within the lens barrel permits the use of 40.5mm filters (a circular polarizer is included) for greater accessibility to a variety of filters. Additionally the white lens barrel helps to minimize heat haze within the barrel while a dust and weatherproof construction ensures proper functionality in poor shooting conditions.
About B&H Photo Video
As the world's largest source of photography, video and audio equipment, B&H Photo-Video is known worldwide for their attentive, knowledgeable sales staff, and excellent customer service, including fast and reliable shipping. Visitors to the website can access a variety of enlightening articles and educational videos. B&H has been satisfying customers worldwide for nearly 40 years.