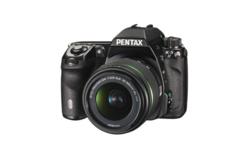 B&H Photo Video is pleased to share the launch of the Pentax K-5 II versatile camera, featuring a newly-developed AF sensor for stellar performance in low-light conditions, as well as a high-quality CMOS sensor.
NYC, NY (PRWEB) September 10, 2012
Pentax announced the PENTAX K-5 II flagship digital SLR cameras, designed to advance the Pentax well-received K-5 camera. The new dustproof, weather-resistant and cold-resistant camera include a newly developed SAFOX X AF sensor that delivers the broadest autofocusing EV range (-3 EV to +18 EV) in its class. In addition, the PENTAX K-5 IIs is offered without an anti-aliasing filter, making it the perfect solution for photographers who practice commercial and studio photography where camera settings, lens selection, lighting, and other shooting conditions are controlled.
The new PENTAX K-5 II offer a compact, solid body that delivers high quality image reproduction, especially when working in low light conditions. The camera's new, highly sensitive AF sensor enables photographers to work with a luminous flux based on F2.8 levels in addition to F5.6, which increases the AF accuracy when using fast lenses. The AF sensor also includes an upgraded AF algorithm as well as the Select-Area Expansion feature, which automatically tracks the subject when it deviates from a pre-assigned selection point, by assessing data from neighboring sensors.
High resolution CMOS sensor for true-to-life images with minimal noise
With its large sensor measuring 23.7mm by 15.7mm with approximately 16.28 effective megapixels, the K-5 II's latest-generation CMOS image sensor ensures high-speed image data readout. By coupling the sensor with the PRIME (PENTAX Real Image Engine) II imaging engine, the Pentax K-5 II delivers super high resolution, rich gradation digital images free of digital noise over a wide sensitivity range – from ISO 100 to ISO 12800 in the standard setting, or from ISO 80 to ISO 51200 when expanded via a custom function.
High quality LCD monitor with outstanding visibility outdoors
The K-5 II includes a 3.0 inch, wide-view, air-gap-free LCD display with approximately 921,000 dots for excellent visibility when outdoors. Situated between the front glass panel (which is coated with an anti-glare film) and the LCD screen is a unique resin layer that alleviates the reflection and dispersion of light to effectively prevent ghost images and maintain image brightness. The LCD cover is also made of tempered glass to keep it free of scratches and abrasions.
At this same time Pentax also announced the 90mm f/2.8 D FA 645 Macro ED AW SR medium-length macro lens (equivalent to 71mm in 35mm-format) for use with Pentax 645-mount medium format cameras. The f/2.8 maximum aperture provides greater control over depth of field and features rounded 9-blade diaphragm construction. This lens has the Pentax Quick-Shift Focus System for rapid switching between auto and manual focus modes, and integrates a Shake Reduction mechanism for countering the effects of camera shake or image blur.
Both an HD Coating and Aero Bright Coating are applied to lens elements in order to improve overall light transmission while reducing flare and ghosting. A Super Protect (SP) coating is also applied for protection against the elements and to ease cleaning of the lens. In addition to the SP coating, the overall construction of the lens is also weather resistant and dustproof.
Also announced the Pentax Q10 compact digital interchangeable lens camera with 5-15mm Lens (Red) offers versatility without the bulk and weight of a DSLR. It has a 12.4MP backlit 1/2.3" CMOS sensor, which captures low-noise images even at high levels of sensitivity for 12-bit DNG RAW and JPEG file formats. This sensor and the AF algorithm have been upgraded in order to provide faster, more accurate autofocusing. The camera is compatible with the PENTAX Q-mount lens system, which encompasses prime, zoom, fisheye and other types of lenses.
A 5-15mm (35mm equivalent: 27.5-83mm) 3x normal-range zoom lens is included, for capturing wide-angle shots, portraits, and everything in between. The maximum aperture ranges from a fast f/2.8 for low-light shots to f/4.5. Pentax's lens coating produces well-defined, high contrast images with minimal flare. The Neutral Density (ND) filter lets you use a wide aperture in bright environments where a narrow aperture would normally be required.
The camera's large 3.0" (7.6 cm) LCD monitor features an HVGA resolution of 460,000 pixels and provides a wide viewing angle for framing and playback. Capture full HD 1080p video at 30 frames per second in H.264 compression format. A built-in micro HDMI port enables you to view your movies on an HDTV.
The integrated pop-up flash has an effective range of up to 23' (7.0 m) at ISO 200. Sensor-shift Shake Reduction stabilizes images for clear, blur-free quality, even in low-light conditions. The camera is also equipped with the DRII Dust Reduction system.
Connect with B&H Photo on the Web! (Facebook, Twitter, Tumblr, Google+, Pinterest, Flickr, YouTube, B&H Insights & InDepth)
About B&H Photo Video
As the world's largest source of photography, video and audio equipment, B&H Photo-Video is known worldwide for their attentive, knowledgeable sales force, and excellent customer service, including fast, reliable shipping. Visitors to the website can access a variety of enlightening articles and educational videos. B&H has been satisfying customers worldwide for over 35 years.