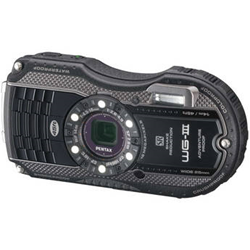 Pentax Announces the WG-3 Digital Camera Kit—Now Available for Pre-Order at B&H Photo Video
NYC, NY (PRWEB) January 31, 2013
The Pentax WG-3 Digital camera kit, includes the WG-3 camera, a carabiner strap and a macro stand. The camera has a backlit CMOS image sensor with a resolution of 16MP. It's equipped with a 3", 460K-pixel widescreen TFT LCD monitor providing a 170° horizontal and vertical viewing angle. The monitor has an anti-reflective coating.
B&H Photo Video is currently accepting pre-orders on the Pentax WG-3 cameras
The Pentax WG3 features 4x optical zoom lens has an effective focal length of 4.5-18mm, equivalent to 25-100mm in 35mm format. It also features a wide, fast f/2.0 aperture. Six LED Macro Lights around the circumference of the lens barrel allow for brighter, more uniform illumination for macro work. The lens has a protective cover with an SP coating.
16MP Resolution
Features a backlit CMOS image sensor with a primary color filter and a 16MP resolution. The sensor works with the camera's advanced imaging engine to offer a maximum ISO of 6400 for low-light shooting--without compromising on image quality or color accuracy
3" LCD
The WG3 cameras are quipped with a 3", 460K-pixel 16:9 widescreen TFT LCD monitor that offers a 170° horizontal and vertical viewing angle. The screen has an anti-reflective (AR) coating for glare-free viewing in bright light
4x Optical Zoom Lens
The lens' effective focal length is 4.5-18mm (35mm equivalent: 25-100mm), covering a wide-angle to telephoto range with a 4x optical zoom. The camera's Intelligent Zoom (digital) function extends the range further to approximately 28.8x, covering up to a 35mm equivalent focal length of 720mm. The lens also has a wide, fast f/2.0 maximum aperture. A total of 6 LED Macro Lights surround the circumference of the lens barrel, enabling brighter, more uniform illumination for macro work when the Digital Microscope mode is selected. Additionally, the lens has a protective cover with an SP coating
Image Stabilization
To counteract the effects of camera shake, especially in low light, the WG-3 uses two forms of Shake Reduction (image stabilization): sensor-shift and digital. The digital component is divided into two parts: Pixel Track and high ISO. Together, the three components are referred to as the triple shake reduction system. The Movie SR mode stabilizes your videos
Extreme Durability
The Pentax WG3 rugged cameras are waterproof for up to 2 hr of continuous use at a maximum depth of 45.9'. It's also shockproof against drops up to 6.5', and crushproof against up to 220 LBF. Additionally, the WG-3 is dustproof (JIS 6) and built to withstand extreme temperatures as cold as 14°F
Full HD Movies
Record Full HD 1080p videos at 30 frames per second in widescreen format (1920x1080), with 264 compression and stereo sound. Benefit from a high-speed recording function for slow-motion playback of captured movie clips, as well as a fast-forward function. The micro HDMI port allows one to output videos to an HDTV or other compatible monitor
Product Highlights
16MP Backlit CMOS Image Sensor
3" Widescreen TFT LCD with AR Coating
4.5-18mm (35mm Equiv: 25-100mm) f/2 Lens
4x Optical Zoom
Sensor-Shift/Digital Image Stabilization
Waterproof to 45.9', Shockproof to 6.5'
Crushproof against 220 LBF
Dustproof, Freezeproof to 14°F
Capture Full HD 1080p Video
ISO 6400
Additionally the Pentax WG-3 Green or Purple cameras feature GPS recording, that automatically records position and travel log data onto captured images, while providing the following additional benefits: a built-in digital compass, gauges for pressure, altitude and water depth, and wireless recharging capabilities. The GPS also adjusts the built-in clock to local time.
About B&H Photo Video
As the world's largest source of photography, video and audio equipment, B&H Photo-Video is known worldwide for their attentive, knowledgeable sales staff, and excellent customer service, including fast and reliable shipping. Visitors to the website can access a variety of enlightening articles and educational videos. B&H has been satisfying customers worldwide for nearly to 40 years.