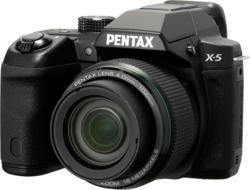 B&H Photo Video is pleased to share the launch of the Pentax X-5 stylish 26x megazoom point & shoot digital camera
NYC, NY (PRWEB) August 22, 2012
B&H Photo Video is pleased to share the launch of the Pentax X5 stylish 26x megazoom digital camera for photographers who want to shoot a wide variety of subjects in an equally wide variety of styles, from portraiture to expansive landscapes to extreme close-ups. With its powerful zoom lens that can range from ultra-wide angle to super telephoto (22.3-580mm equivalent), there is nothing that cannot be captured. The X-5 even offers a macro mode that allows sharp focus as close as 0.4" (1 cm)!
When shooting in super telephoto or in low light situations, the camera's triple shake-reduction technology compensates for hand movement or vibration and assures the photographer a crisp, blur-free image. The hybrid triple shake-reduction technology goes the extra step toward total image stabilization by combining mechanical sensor-shift-type SR (shake reduction) with digital high-ISO still and video shake reduction. No matter how difficult the shot, the ample zoom range of the X-5 combined with its triple shake-reduction will get it for you and get it crystal clear.
Supported by a state-of-the-art image processor with Super Resolution technology and a 16MP back-illuminated CMOS sensor, the Pentax X5 guarantees high resolution images and performance speeds to match. Even at ISOs up to 6400, the camera produces well-defined, low-noise photos. And in terms of video, the X-5 features Full HD 1080p recording with h.264 compression at a frame rate of 30 frames per second. Movies can be played with creative touches such as slow motion and fast-forward playback and with micro-HDMI output, screening movies on devices and HDTVs is as simple as connecting a cable.
The handsome DSLR-like design of the Pentax X5 also houses an electronic viewfinder with diopter adjustment that creates a clear view of your subject no matter the lighting conditions. The EVF is ideal when shooting in very bright or dim lighting and also when you need the stability that comes from holding camera to eye. The diopter adjustment mechanism offers the clearest view of both subject and viewfinder display, while minimizing eye fatigue during long shooting sessions.
Capable of shooting in RAW format, the Pentax X-5 will give professional quality images ready for post-production touches and print enlargements, but it is also a camera that offers the shooting ease of Auto Picture Mode and Fast Face Detection. Auto Picture Mode allows the camera to recognize the scene it is shooting and select the camera's settings accordingly.
Read and learn more detail information about the Pentax X5 at BH In-Depth
Connect with B&H Photo on the Web! (Facebook, Twitter, Tumblr, Google+, Pinterest, Flickr, YouTube, B&H Insights & InDepth)
About B&H Photo Video
As the world's largest source of photography, video and audio equipment, B&H Photo-Video is known worldwide for their attentive, knowledgeable sales force, and excellent customer service, including fast, reliable shipping. Visitors to the website can access a variety of enlightening articles and educational videos. B&H has been satisfying customers worldwide for over 35 years.