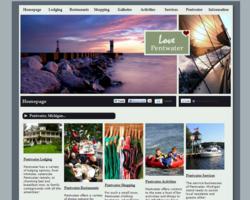 ...visitors will research their coming vacation extensively, and often exclusively via the web.
Pentwater, Michigan (PRWEB) February 03, 2012
As of 2012, The Pentwater Chamber of Commerce will be working together with LovePentwater.com, a complimentary online Pentwater resource, to promote the village in an attractive and professional manner.
As with many seasonal, tourism-dependent communities, the businesses of Pentwater, Michigan understand that their first product, by which they collectively sink or swim, is their lovely town. If the visitors arrive during the warm summer season, they will find their way into local accommodations, restaurants, stores, and galleries. It follows that if the Chamber can sell the town to more people, all will greatly benefit. Consequently, the Pentwater Chamber of Commerce is enthusiastically placing more marketing focus towards online resources.
In the last 10 years the tourism industry has moved to the internet. A decade ago many of us didn't even have email addresses, but today most visitors will research their coming vacations extensively, and often exclusively via the web. For a town like Pentwater, this means offering multiple professional websites, with extensive content, featuring beautiful photographs, and fun activities, while displaying an active business community. A vibrant vacation destination should be reflected by full, vibrant, and professional websites.
Along with the Chamber of Commerce website, LovePentwater.com is committed to promoting Pentwater, Michigan online as an attractive, up-to-date, travel-focused resource. LovePentwater.com is privately owned by Keyhole Promotion, but will be working closely with the Pentwater Chamber of Commerce to create full-page, custom business profiles on both websites.
Full page listings on LovePentwater.com are only $99 per year. A Pentwater Chamber of Commerce membership is $195 per year.
###