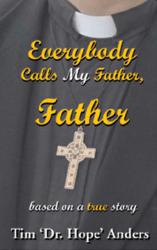 Oceanside, CA (PRWEB) September 27, 2012
The PEO members host guest speakers at their meetings from time to time, often featuring an author to encourage and uplift its members. Anders will speak in front of PEO members at their private, monthly sisterhood meeting on the topic of optimism. The inspiration comes from the extreme hopeful attitude that his own mother had and the effects that it's had on his life.
Tim 'Dr. Hope' Anders will be talking about the topic of optimism from his latest book; "Everybody Calls My Father, Father." The discussion will be about the lessons of encouragement and strength he learned from the spirit of his mother and how it has impacted him in his life. He's excited to participate in the PEO meeting and talk to members because the organization provides so much to support women to achieve their highest aspirations.
"The struggle my mother went through because of her forbidden love for a Catholic priest and the horrific things she had to endure at the hands of the Catholic church will astound you. Were it not for her optimistic attitude and her spirit of forgiveness, I'm sure she would not have survived. I wanted to share her passionate true love story with the world. In a great way, her strength that came from what she had been through motivated me and shaped the person who I am today," said Anders.
"I only hope to pass along this message of optimism and hope to the PEO members."
Alpine Publishing will be in attendance at the event, selling copies of Tim Anders' "Everybody Calls My Father, Father" as well as his children's books in the back of the room at the event in Oceanside, CA.
About Tim 'Dr. Hope' Anders:
Tim 'Dr. Hope' Anders is not only the author of several award-winning children's books, but has also authored several health and lifestyle books with Alpine Publishing. He is also an avid musician and poker player. For more information about Tim Anders, please visit http://drhope.com/.
About PEO:
PEO is a philanthropic organization where women celebrate the advancement of women; educate women through scholarships, grants, awards, loans and stewardship of Cottey College; and motivate women to achieve their highest aspirations. Read more at http://www.peointernational.org.