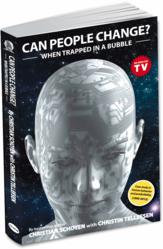 Human behavior is not random, but predictable and classifiable - Carl Jung
(PRWEB) September 24, 2012
The new book; Can People Change? - When trapped in a bubble, which is based on a 17 year (1995-2012) study of over 10,000 people, reveals why long-term behavioral changes to many is difficult if not impossible.Christian Schoyen and Christin tellefsen's new book reveals each person exists within his/her own bubble of reality, which gives them a highly subjective opinion of themselves and the world, with everything being perceived through their own individual "colored lens". The book which is inspired by the theories of renowned psychoanalyst Carl Jung explains as one fully understands how a person's subjective bubble of reality is created and their framework of thought (mental composition), their future behavior in all parts of life is predictable.
For sample reading of the book.
The individual bubble of reality is created by a person's "hidden programming," of which 85 percent takes place before the age 12, and once this conditioning is in place it's more or less fixed for the rest of their life, without fault of their own. The layers of the bubble are created by the beliefs of parents; family, friends, and society, with each belief being connected to emotions, which strips away the power of the person, making them live on the mercy of their fixed programming, which is controlled by the ego. Most common emotion used by the ego to control is fear. The ego's job is to protect the bubble of one's reality (identity), ensuring that every thought, action and belief is validated and enforced. As each layer of the bubble is added while a person grows up, the ego gets stronger and the person becomes more and more fixed in their ways. Regardless of whether a belief is true or not is irrelevant as what one accepts as the truth becomes ones unchallengeable reality. The information presented in the book is vital for: Individuals who want to know how their own life, or someone else's, will proceed, Corporations to assess current and future employees to determine their probability of success and everyone interested in understanding what the universal laws of human behavior reveal about the predictable dynamics of society.