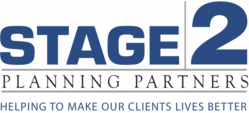 Patrick says, "this resource center will allow us to provide high quality information for those going through transitional issues in their life."
South Burlington, VT (PRWEB) February 15, 2012
Josh Patrick, Founding Principal of Stage 2 Planning Partners announces the opening of Stage 2's People in Transition Resource Center.
Patrick says, "this resource center will allow us to provide high quality information for those going through transitional issues in their life." People going through transitions could be those that have some of the following issues:

Those who have lost a spouse.
People selling a business.
People who have received an inheritance.
People going through a divorce.
Those who are about to retire.
People who have lost a job.
People who are about to get married.
Susan Bradley, a recognized international expert on Sudden Money issues™ says, "when money changes circumstances change and when circumstances change, money changes."
The reports and workbooks in the Resource Center help people understand how to handle their finances, make decisions and prioritize what's important for those going through a personal transition.
Some experts believe that when under extreme stress IQ's drop and decision-making becomes much more difficult. The workbooks in the resource center help those going through transitions to understand how this phenomenon might happen.
To download workbooks from the people in transition section of the Stage 2 Resource center go to: http://www.stage2planning.com/resources/people-in-transition.
Stage 2 Planning Partners is a wealth management firm that specializes in working with people who on individual planning issues, those who own businesses or those going through personal and business transitions. Stage 2 Planning has offices in South Burlington, VT and Latham, NY.
For more information, please contact Josh Patrick at (802) 846-1264.
# # #