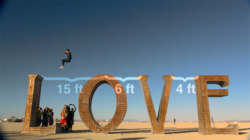 Austin, TX (PRWEB) May 24, 2012
Nerditorium has just release the feature documentary film "People in Motion." Directed by Cedric Dahl, this documentary explores the soul of parkour, free running, and creative movement. The motivation for the film is to help viewers intimately navigate the emerging philosophy behind these new sports and better comprehend the people that make these disciplines an integral part of their lifestyle.
The film is available at PeopleInMotionMovie.com where people can pay what they want to purchase a copy. "We figure if people like the trailer a little they can pay a little, if they like it a lot, they can pay a bit more," explains Ben Hoffman, executive producer.
"People in Motion" is the first project to come out of The Nerditiorium, a micro-budget, tribal, art and technology incubator.
For more information, to arrange a showing, or to setup an interview with the cast or crew, contact our producer, Ben Hoffman at +1 (512) 843-3808 or by email at pr(at)peopleinmotionmovie(dot)com.