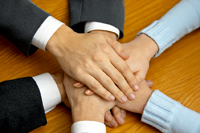 We were pleased to work with both the amazing team at People in Progress and the generous donors at the Home Depot Foundation, and appreciate the opportunity to make a difference in our local community through this work
Los Angeles, CA (PRWEB) February 24, 2012
After receiving a $250,000 grant from the Home Depot Foundation, Los Angeles-based nonprofit People in Progress, which provides intervention and support to people struggling with substance abuse, economic deprivation, hunger and homelessness, asked Har-Bro to help repair and remodel its headquarters.
Har-Bro, a restoration and reconstruction provider, worked in conjunction with Home Depot Restoration Services to efficiently and effectively rehab and modernize the property, located at 8140 Sunland Blvd., Sun Valley, Calif.. Prior to the building's renaming and rededication ceremony in honor of its recently deceased founder, Dennis O'Sullivan, Har-Bro was able to paint the building and provide a facelift.
"This is an incredible organization that transforms people's lives and never turns anyone away, so we were honored to be asked to help them with their recent building project," said Jeff Swenson, project manager for Har-Bro. "I've been so impressed with People in Progress that I've started to invest my own time working at their facility and enjoyed building relationships and contributing to such a terrific nonprofit."
The work on the People in Progress building, which accounts for about $160,000 of the Home Depot Foundation grant, is expected to be completed in March 2012.
"We were pleased to work with both the amazing team at People in Progress and the generous donors at the Home Depot Foundation, and appreciate the opportunity to make a difference in our local community through this work," Swenson added.
About People in Progress
For 35 years, People In Progress (P.I.P.) has provided intervention and support to individuals and families in crisis with services addressing substance abuse, economic deprivation, hunger and homelessness. The organization is dedicated to creating self-reliance and building addiction-free lives. Each year, P.I.P. provides services to more 25,000 individuals. It is our aim to help those we serve transition back into the community as productive citizens. 100 percent of our participants are living well below poverty level. Our services are designed to provide disadvantaged individuals with access - whether directly or through referral - to the resources they need to reach self-sufficiency. For more information, please visit http://www.peopleinprogress.org/
About The Home Depot Foundation
The Home Depot Foundation is a 501(c)(3) organization that was established in 2002 to further the community building goals of The Home Depot by providing additional resources to assist nonprofit organizations. The mission of The Home Depot Foundation is to improve homes and improve lives. For more information, please visit http://www.homedepotfoundation.org/index.html.
About Har-Bro
Har-Bro is a full-service mitigation, restoration and reconstruction provider for properties damaged by water, fire, flood and other disasters. Leading the industry since 1961, Har-Bro has offices throughout California, Seattle, Portland, Phoenix and Las Vegas. For more information on handling property damages or to learn more about Har-Bro, please visit http://www.harbro.com or call (800) 266-5677.
# # #