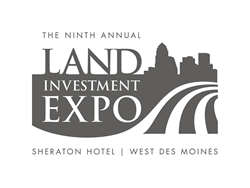 CLIVE, Iowa (PRWEB) January 28, 2016
The nation's premier farmland conference, the Land Investment Expo presented by Peoples Company, returns for its ninth consecutive year, January 29, to West Des Moines, Iowa. The schedule of mainstage keynote presenters is as follows:
2016 Land Investment Expo
January 29, 7 a.m. to 6:30 p.m.
8-10 a.m. – General Session

Iowa Senator to Address Land Expo Attendees – Iowa Senator Joni Ernst
U.S. Secretary of Agriculture to Address Land Expo Attendees - U.S. Secretary of Agriculture Tom Vilsack
The Agriculture Manifestor – 10 Key Drivers that will Shape Agriculture in the Next Decade - Robert D. Saik, P.Ag., C.A.C., CEO, Agri-Trend Group of Companies
Farmland Market Headwinds, Tailwinds, and Long Term Performance - Bruce J. Sherrick, Ph.D., Professor of Land Economics, University of Illinois
11:15 a.m.-1:30 p.m. – Lunch and Keynote

All's Fair: Love, War and Politics - Mary Matalin and James Carville
Land, Losses, and the Low Down on 2016 - Dennis Gartman, Editor/Publisher, The Gartman Letter
3:15-5 p.m. – General Session

Governor to Address Land Expo Attendees on Water Quality Plan - Iowa Governor Terry Branstad
Investing in Marijuana – Agriculture's Next Big Thing - Benjamin J. Zaitz, Managing Director, B. Zaitz & Sons
The Economic Outlook for Investors and Business Decision Makers - Dr. Mark Dotzour, Real Estate Economist
Click here or on the attachment via the right hand side of this page for access to the complete 2016 Land Expo agenda, including this Friday's lineup of educational sessions and networking breaks at the Sheraton West Des Moines Hotel.
To arrange for media credentials, contact Becky Rozenboom at (855) 800-5263 or Becky(at)PeoplesCompany(dot)com. More information is available at LandInvestmentExpo.com and PeoplesCompany.com.
###
About Peoples Company
Peoples Company is a leading agricultural real estate services provider specializing in land brokerage, land management and land appraisal throughout the Midwest and in key markets across the United States. The cornerstone of Peoples Company's aggressive marketing efforts includes a 60-person team and the establishment of key relationships with major institutional investors in the land investment space. The Land Investment Expo, hosted annually since 2008, each January attracts more than more than 600 people to the heart of ag country. Clive-based Peoples Company is licensed to sell real estate in 14 states, including Iowa, Illinois, Minnesota, Missouri, Montana, Nebraska, North Dakota and South Dakota. For more information, visit http://www.PeoplesCompany.com or call (800) 855-5263.