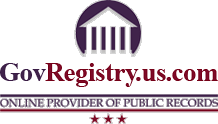 (PRWEB) December 18, 2012
GovRegistry.us.com has developed a repository of public and private records that can easily be searched from one's home computer. A simple interface allows to run background checks that include such information as:

Criminal Records
Sex Offenders
Divorce Records
Address History
Family Members
The main goal of this new service is to become an all-in-one source of public and private records. The search engine allows one to perform people searches, background checks, reverse phone lookups, criminal background checks and many more in one place. GovRegistry.us.com's powerful databases include over 1 Billion records and growing.
The common problem of existing directories is that they are often limited to one data type and source. This negatively affects their accuracy and data availability rates. This modern people search engine utilizes multiple public and private databases collected from various sources, which makes it possible to compile all data in one place and create a highly accurate service. The most important thing is that one no longer needs to use several services to perform people searches, background checks, phone number lookups, etc., - now one can do all these searches on one website which saves time, effort and money.
Flexible Payment Plans
The R&D department of GovRegistry.us.com compared all existing similar services and came to the conclusion that most of them use recurring billing "schemes" which are frowned upon by most customers. Therefore, we have decided to avoid such billing practices and to offer an unlimited plan for a competitive annual price instead. For our business partners we offer API and batch processing.
Background checks are not only for government and law enforcement officials, ordinary people and small business owners rely on comprehensive background checks nowadays to ensure the safety of their operations. The most common uses of GovRegistry's databases is to run background checks for employment and tenant verification purposes. Unlike other similar services, GovRegistry's records are frequently updated to ensure the most current information about each person. While it is impossible to update all sorts of information in real time, we make it a priority to update criminal records first and foremost.
Although the service is already fully-operational, we are still collecting user feedback so we can make necessary improvements and deliver an even better search experience. We are also working on mobile applications for Android and iPhone as well as a mobile optimized web-site.
Please, visit GovRegistry.us.com for more information.