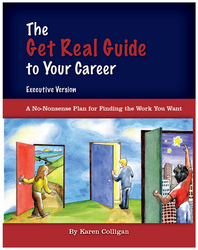 The Get Real Guide To Your Career™
San Francisco, CA (PRWEB) September 10, 2009
Available immediately on the PeopleThink website http://www.peoplethink.biz or on The Get Real Guide website http://www.getrealguide.com, "The Get Real Guide to Your Career™ - Executive Version" is designed for seasoned professionals and executives who want a "bottom line" tool to either refocus their talents into a new career, or continue their career in a new opportunity. The Executive Version is concise and compact. It facilitates action and results through activities and resources focused on building a career management strategy and plan of action.
"Leaders should regularly assess where they are in their career. Doing so keeps one focused and on plan. Are you where you want to be? Are you doing work you love? Are you on plan to achieve your career goals? What's holding you back? How can you create the career that's right for you?" says Karen Colligan, principal and founder of PeopleThink and author, "The Get Real Guide to Your Career." "If you have 15+ years of professional experience, and a solid understanding of your skills, competencies and career objectives, then the Executive Version is for you."
About Karen Colligan
Karen Colligan, founder and principal of PeopleThink, popular career and leadership speaker, and author of "The Get Real Guide To Your Career™" series of workbooks, is an industry-recognized leader in the field of career, leadership and team development. For more than 20 years, Karen has been helping companies including Genentech, Citrix Online, SAP Labs, Oracle, Intel, Novartis, Seagate, InVision, and Wells Fargo achieve competitive advantage by improving talent engagement and performance while aligning individual team and organizational goals. To read a testimonial from SAP Labs, visit http://www.peoplethink.biz/documents/testimonial_SAP.pdf. Karen is a frequent author on the topic of talent engagement, including Invest in your People, Invest in your Future.
Karen has a BS in Organizational Behavior from the University of San Francisco. She is a graduate of the Coach Training Program at Coach U. In addition to "The Get Real Guide" and PeopleThink's signature portfolio of career and leadership programs, Karen uses a number of diagnostic tools in her work, including the Insights Evaluator, The Leadership Challenge, and DiSC Style Analysis.
About PeopleThink™
Headquartered in San Francisco with Fortune 500 clients throughout the U.S., PeopleThink's comprehensive portfolio of career development, leadership and team excellence programs provide customized, pragmatic solutions and strategies for immediate results. PeopleThink's portfolio of services includes:
LeadershipNow™ - Leading for Excellence
CoachingUp™ - Today's Manager. Tomorrow's Leader.
Team TuneUp™ - Teams that work together, succeed together.
BenchStrength™ - Building Bench Strength for corporate sustainability.
PeopleThinkWorks™ - Workshops that work.
PR Contact:
Nancy Leonard
Marketing You
908-489-3713
###