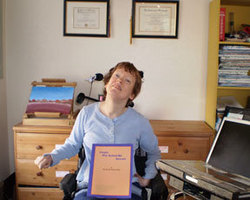 Round Lake, IL (PRWEB) December 22, 2010
Don Johnston Incorporated, the assistive technology developer of literacy software and accommodations for persons with disabilities, celebrates a new book, 'People Who Raised Me Beyond,' written by Dr. Kristin Rytter. Rytter who has lived with quadriplegia since birth was thought to be unteachable. In 2007, she became the first person to receive a PhD in Developmental Psychology from the University of Washington.
People Who Raised Me Beyond describes Rytter's life and academic accomplishments despite living with cerebral palsy and no speech. Readers will appreciate her determination through the love of family, guidance from teachers and the use of an assistive technology writing tool, called Co:Writer which became Rytter's voice. She used the tool to write presentations on a MacBook Pro with a Morse code interface. In 2006, she defended her doctoral dissertation to improve the pre-literacy experiences of toddlers with motor and speech impairments through intervention.
Ruth Ziolkowski, president of Don Johnston and publisher of Co:Writer said, "Kristin proves to the world that high expectations are essential for people with disabilities. Her book will help us to better understand the barriers and obstacles that people with disabilities face. Through her spirit, the support of family and teachers, and writing accommodations she was able to reach the highest academic degree, start a career and self-publish her first book."
Co:Writer acts like a personal writing assistant and uses FlexSpell technology to accurately predict words. The software is beneficial for persons who have poor motor skills who often experience fatigue when keyboarding. It is also useful for poor spellers or people with writing disorders, such as dysgraphia. Users can select words with a mouse, keyboard or switch and set accessibility features such as alternate keyboard input options, rate of speech and voices for text-to-speech output. The writing accommodation includes hundreds of K-12 curriculum dictionaries and postsecondary vocabulary.
"Co:Writer helped me express my thoughts and speed up the writing process," said Dr. Rytter. "Without this tool, I'm not sure how I would have completed my coursework and my book. I hope that more people will hear my message that we shouldn't just write off individuals with disabilities and that they can achieve great results, just like I did."
November, 29, 2010 marked the 35th anniversary of the Individuals with Disabilities Education Act that supports high expectations for students with disabilities."Every educator has a responsibility to embrace Kristen's story and to help all children reach their optimum learning potential," said Ruth Ziolkowski. "Dr. Rytter is an inspiration to all of us!"
Order People Who Raised Me Beyond on the Don Johnston website or call 1-800-999-4660.
Resource Links:
Order People Who Raised Me Beyond
Link: http://www.donjohnston.com/products/teacher_resources/people_who_raised/index.html
Follow Dr. Rytters' research on FaceBook.
Link: http://www.facebook.com/pages/SAGE-WITHIN-us-The-Work-and-Writings-of-Dr-Kristin-Rytter-PhD/170095018588
Read President Obama's statement on IDEA and learning for all.
Link: http://www.whitehouse.gov/the-press-office/2010/11/29/statement-president-35th-anniversary-individuals-with-disabilities-educa
About Co:Writer - Co:Writer appears as a small window on a computer screen and works in most computer writing applications such as MS Word, Outlook, Internet Explorer, Firefox, Facebook, email, blogs, wikis and instant messaging. Software licenses are available for individuals, K-12 schools and universities. The software runs on Mac OS 10.4–10.6, Windows XP, Vista and Windows 7.
Read research. Link: http://www.donjohnston.com/resources/cowriter6_ue_index.html
About Cerebral Palsy – CP affects muscle coordination. A recent CDC study (Center for Disease Control) shows that the average prevalence of CP is 1 in 303 children. The United Cerebral Palsy Association estimates that 764,000 children and adults manifest one or more symptoms. About 8,000 infants are diagnosed each year and 1,200 preschool age children enter school with CP.
About Don Johnston Incorporated
Don Johnston develops accessible reading and writing technologies to support K-12 and postsecondary students with cognitive, physical, and learning disabilities. Since 1980, the company has partnered with literacy experts, AT specialists, SLPs, OTs, special education teachers, university researchers and DSS coordinators to improve access to learning and to increase writing independence. Students and individuals with dyslexia, autism, dysgraphia, down-syndrome and diverse learning challenges will benefit from software and hardware devices to accommodate them in education and workforce programs.
###