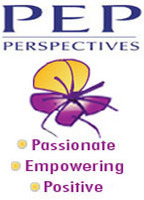 PEP provides a platform for women of all backgrounds to realize their potential and to capitalize on it. Catch the momentum – when someone gives you hope - Pass It On!
Omaha, NE and Houston, TX (PRWEB) December 2, 2009
Women are uniquely valuable. They network, start and run businesses, volunteer, instill values, keep families connected and cherish friendships! PEP-Perspectives' mission is to stop passively listening to negative sources and start actively being a part of this committed group of positive women. It all starts at the website: http://www.pep-perspectives.com a unique place to connect with other PEP women. The enthusiasm of the women is respectful, their attitudes are passionate, they share many perspectives, and they are ready to take action!
PEP is a 'contagious' cycle. The social networking component allows women to go online to write their stories, encourage and acknowledge other women, network businesses, identify mentoring opportunities and promote non-profit organizations that empower women and children. The enthusiasm continues with PEP Rallies; some large, others small gatherings…coffees… etc. where women come together for a variety of causes and to personally connect with other positive women. PEP's cycle gains momentum as they "Pass it On", taking action to do something nice for someone. The cycle goes unbroken, as thousands of women realize they have the power to make a big difference when they start with the little things!
Members comments support the impact that PEP is making:
"Reading your story of the doctor who gave your aunt a 'pep' talk when given a bad diagnosis really helped give my friend a different perspective"
"I was very impressed with the high school kids who raised money all year to buy a DVD player for a school in Mexico. The principal inspired them to bake cookies during passing periods—who could resist a hot fragrant chocolate chip cookie—Kudos to principal Pat @ Westside High School"
"I loved reading about Sheree's mentoring experiences. It reminds me of the countless mentors who influenced my life".
Pep-Perspectives was started by two passionate middle-aged women; Sam in Omaha & Janell in Houston who saw themselves as 'connectors'. Their goal was to mentor the young with the old, to create a way to share stories and life's experiences and to promote women. PEP is the result of that "Dream That Grew Wings".
The inspiration, the hope and the increased sense of value that women receive and give when actively participating, makes PEP not only a daily connection for women, but it changes the attitude and perspective that influences everyone with whom they come in contact. Become a part of the PEP-Perspectives community: http://www.pep-perspectives.com where women discover their true worth in countless ways, all of them making a difference in the lives of someone, somewhere!
Pep Celebrates Women and Their Gifts!
###