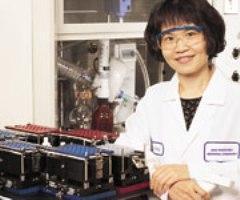 Columbia, MD (PRWEB) August 20, 2009
METTLER TOLEDO will sponsor a free webinar, Innovative Approaches to Synthesis and Purification of Peptide Libraries, on September 23, 2009. This webinar examines how to overcome challenges related to peptide synthesis. In addition to employing a unique safety-catch linker in the synthesis of cyclic peptides, a unique strategy involving functionalized solid supported reagents followed by purification with ion exchange resins to produce libraries of pure dipeptides will also be presented.
This free webinar is designed for anyone interested in topics related to the synthesis and purification of peptide libraries, including parallel synthesis, peptides, cyclic peptides, peptide libraries, functionalized reagents, solid phase synthesis, ion exchange resin, coupling reagents, Fmoc, tBoc, and solid phase peptide synthesis.
Your online presenter, Tom Osborne, has over 12 years of experience with parallel synthesis for a wide range of applications including the synthesis and purification of peptide libraries.
Peptide libraries are widely investigated and routinely screened for their drug-like properties. Synthesis using resins or solid supports is a favorite route for researchers performing peptide synthesis. However, synthesis and subsequent purification are major bottlenecks encountered during synthesis of peptide libraries.
###