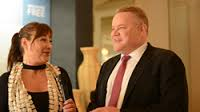 'I'm sad to say my brother died from heroin four years ago at 50 years old,' Mimi shared in her interview. 'It's really important for not just celebrities but for anybody in general (who needs help with addiction) to go through recovery.'
Hollywood, California (PRWEB) May 11, 2015
In an effort to raise awareness about the social problems of substance abuse and addiction, Per Wickstrom and Choices Recovery sponsored Durkin Entertainment's EcoLuxe Lounge and the "Salute to the Oscars" celebration in the Stardust Penthouse of the luxurious Beverly Hilton Hotel on February 21st, 2015. A daylong event organized by Debbie Durkin, Los Angeles' leading producer of on-screen placement of sustainable products, the EcoLuxe Lounge makes appearances at various awards ceremonies and festivals throughout the year, including the Emmys, the Oscars and Sundance, among others, showcasing some of the world's top providers of sustainable, eco-friendly and holistic goods and services.
"We wanted to bring the awareness up here in LA," Per later commented about sponsoring the day's events, "that addiction is in our lives, and everybody's got to look at it and we've got to find a solution. It was really neat that we had the ability to talk about Choices, that we give people a choice in their recovery and we don't lock them down into one type or modality (of treatment)."
Among the many entertainment industry professionals that stopped in at the EcoLuxe Lounge was actress and stuntwoman Mimi Lesseos, who took a few minutes to talk about how addiction has directly affected her life. "I'm sad to say my brother died from heroin four years ago at 50 years old," she shared in her interview with Per and AMP Radio's Chris Booker, who was co-hosting the Choices Recovery Media Center that day. "It's really important for not just celebrities but for anybody in general (who needs help with addiction) to go through recovery." A video of this interview can be seen on Choices Recovery's YouTube channel.
See the full video here: https://www.youtube.com/watch?v=2ZicPHzL9jA