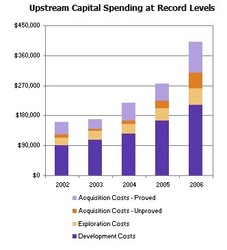 But rising costs are pressuring investment returns, as net income as a percentage of the book value of oil and gas assets declined in 2006 following three years of gains.
NORWALK, Conn. & LONDON (PRWEB) August 29, 2007
"Revenue growth more than offset higher operating expenses and increased taxes, allowing the industry to report $243 billion in net income, the fourth consecutive record," said Robert Gillon, Herold senior vice president and co-director of Equity Research. "But rising costs are pressuring investment returns, as net income as a percentage of the book value of oil and gas assets declined in 2006 following three years of gains."
Harrison Lovegrove Chief Executive Martin Lovegrove commented, "The key challenge facing the petroleum industry continued to be replacing reserves and growing production due to the combination of maturing basins and reduced accessibility to new acreage. With opportunities scarce, proved and unproved acquisition costs increased 85 percent, while the implied costs for the acquisition of proved reserves soared 55 percent, more than twice the increase in oil prices."
The Herold/Harrison Lovegrove study found returns to oil industry shareholders during 2006 were robust: dividends reached a record $83 billion (up $7 billion), while share repurchases increased 37 percent to $88 billion. Combined, these returns to shareholders accounted for 55 percent of net income. Over the last two years, the industry has laid out more to repurchase its own shares than it has to acquire proved reserves.
Overall Findings
The 2007 Global Upstream Performance Review, our 40th annual study of 228 public oil and gas companies based on data filed with the U.S. Securities Exchange Commission (SEC) and other similar agencies worldwide, measured industry performance in a number of key areas:
-- Prices & Revenues - Worldwide revenues increased by $134 billion, implying an average realized price of $43.62 per barrel, a 16 percent increase from 2005.
-- Cash Flow & Capital Spending - Cash flow increased 18 percent to $391MM, more than double the 2002 results. But industry investment exceeded cash flow for the first time since 1999 on a flurry of North American acquisition activity.
-- Exploration & Development - Development spending increased 29 percent, but accounted for 52 percent of total investment, down from the five year average of 58 percent. Exploration spending increased 39 percent, the largest jump in five years.
-- Mergers & Acquisitions - A nearly 80 percent increase in proved acquisition spending produced just a 15 percent increase in purchased reserves. Investment in unproved acquisitions almost doubled to $47 billion and has increased four-fold since 2002.
-- Capital Flows - The U.S. and Canada were net consumers of capital, while Asia-Pacific generated the largest free cash flow of any region for the third consecutive year.
-- Production & Reserves - Oil reserves increased just 1 percent on a 1.9 billion barrel increase in Canada, which was mainly oil sands related. Natural gas reserves and production continued at the 3 percent growth rate of the last four years.
-- Reserve Replacement - Replacement rates increased modestly in 2006 despite the growth in upstream investment. Finding and development costs surged 29 percent to $14.42 per boe as the industry replaced just 111 percent of production through the drill-bit.
-- Costs - A 31 percent rise in lifting costs consumed one-third of the increase in realized prices, while income taxes were up 12 percent. As a result, cash flow advanced only 18 percent compared with an average gain of 26 percent for the 2002-2005 period.
-- Profits - Net income was up 17 percent compared with a 46 percent gain in 2005. Margins were lower after rising for three years.
Key regional findings of the 2007 Global Upstream Performance Review are:
-- The U.S. was the only region in which profitability declined as finding and development costs nearly tripled and reserve replacement costs soared 83 percent.
-- Oil reserves and production in Canada continued to climb, but natural gas has languished as investment has been directed at oil sands development.
-- Oil and gas reserves in Europe are dropping sharply as cash flow exceeds capital spending, but new North Sea projects should help stem the decline.
-- Capital investment in the Africa & Middle East region is being redirected toward exploration and acquisitions as proved reserves continue to decline.
-- Asia-Pacific is the most profitable region due to relatively lower costs and tax rates, but lower rates of reinvestment indicate opportunities are constrained.
-- Oil and gas reserves in South & Central America continue to fall as production flattens, but profitability more than doubled as costs have been contained.
-- Government take in the Russia & Caspian region is high and rising, limiting profitability, but the resource potential is so substantial that capital investment is growing rapidly.
For more information, please see the abridged version of the 2007 Global Upstream Performance Review.
Founded in 1948, John S. Herold, Inc., an IHS company, is a specialized research and consulting firm focusing on valuation, strategy and performance measurement of the world's leading oil and gas companies.
Harrison Lovegrove & Co. Ltd. advises oil and gas companies on acquisitions, divestitures, swaps of assets and subsidiaries, and the takeover and defense of listed companies.
Copyright (C) 2007 John S. Herold, Inc. ("JSH"). All rights reserved. Herold Press Release is published by John S. Herold, Inc., 14 Westport Avenue, Norwalk, CT 06851, USA. The information contained herein has been obtained from sources believed to be reliable, but JSH does not guarantee their accuracy or completeness. No information or opinions contained herein constitutes a representation or solicitation for the purchase of any securities of the companies mentioned herein. From time to time, JSH and/or its officers and employees may have long or short positions in the securities mentioned herein or during the past year may have transacted in securities of the companies mentioned.