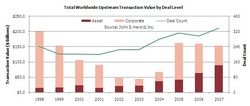 the industry has been facing rough seas. Access to opportunities has continued to become more restricted and securing approval for project and deal go-aheads has lengthened. Ironically, the industry had better margins at $30 oil than at the YE 2007 price of $96 per barrel/bbl.
NORWALK, Conn. (PRWEB) March 12, 2008
Key Conclusions of the Review Are:
Deal pricing declined from frothy highs of 2006.
After deal pricing accelerated to consecutive record levels in both 2005 and 2006, worldwide weighted average deal pricing for proved reserves fell 22 percent in 2007 to $9.99/barrel of oil equivalent (boe). Implied proved reserve (1P) values in North America declined a moderate 7 percent to $16.57/boe. Outside North America 1P deal pricing declined 44 percent to $5.05/boe, dampened significantly by low dollar per boe transactions in the Former Soviet Union (FSU), primarily from the Russian government auction of former Yukos assets to state-owned companies. Excluding FSU deals, worldwide weighted average and median proved reserves deal pricing held roughly flat with the prior year. Transactions in the FSU were the critical factor in global weighted average proved plus probable (2P) pricing: it declined 10 percent over the prior year including the FSU, and increased more than 20 percent excluding the FSU.
Asset deal value rose for the sixth straight year.
Global asset transaction value rose nearly 40 percent to $89 billion in 2007. Asset deal count surged 30 percent in 2007 to more than 240 deals, with more than 90 percent in the sub $1 billion segment and nearly 75 percent in North America. But worldwide 1P and 2P asset deal prices in 2007 fell by 29 percent and 57 percent to $7.79/boe and $2.96/boe, respectively. Excluding the FSU asset deals, which comprised over 30 percent of the total asset deal value in 2007, prices still moved lower, with 1P and 2P asset deal metrics down by 13 percent and 17 percent to $13.86/boe and $8.59/boe, respectively.
Corporate transaction value dropped considerably.
Global corporate transaction value fell to $65 billion, as no deals greater than $10 billion were transacted for the first time since 2004. Corporate deal activity was driven by a surge in the $5-$10 billion segment, which jumped from $5 billion in 2006 to nearly $34 billion - representing more than 50 percent of total corporate deal value in 2007. Worldwide 1P corporate weighted average implied values were flat with 2006. But excluding corporate activity in the FSU, worldwide 1P corporate deal prices rose nearly 20 percent to $18.88/boe and 2P prices jumped by two thirds to $14.79/boe. Excluding the FSU, the gap between 2P corporate and asset deals was more than $6.00/boe, the widest in the last five years.
Total acquisition spending by national oil companies was lower in 2007.
Total transaction value by state-owned or controlled oil and gas companies (NOCs) slipped from its record high set in 2006, but still accounted for roughly $43 billion, or 29 percent, of total worldwide deal value during 2007. Total transaction value for NOCs outside of their home countries was about $13 billion in 2007, the same level as 2006. A notable shift in this activity was the emergence of petro-dollar-backed Middle East entities as the primary M&A market investors outside of their region in 2007.
Region-to-region metrics were volatile amidst soaring commodity prices and inflated costs.
Despite a strong overall incline in commodity prices, implied values differed dramatically from region to region in 2007. Global average 2P reserve pricing declined by 10 percent, but surged by 29 percent excluding Canadian Oil Sands and FSU deals. In 2007, 2P deal pricing was up in only two study regions, Asia-Pacific and (marginally) Africa & Middle East. In all other regions, deal pricing declined, including modestly in the U.S. and Canada (1P reporting basis) and more steeply outside North America (2P basis) in Europe, Latin America and the FSU.
North America accounted for a record percentage of total global upstream M&A deal value.
In 2007, North America represented 62 percent of worldwide transaction value, a record high in the five-year study period, and a substantial increase over 55 percent the prior year. North America was the focus of three-quarters of total global deal count, slightly above its three-year and five-year averages and split evenly between the U.S. and Canada. Outside North America, without a substantial Multi-Region corporate deal, M&A dollar volume in 2007 was primarily driven by the auction of the former Yukos assets in the FSU, which recorded 25 percent of total worldwide transaction value. The remaining regions accounted for a nominal 11 percent of worldwide total (in line with the five-year average) with each in the 2 percent-3 percent range. Outside North America excluding the FSU, Europe scored the largest percentage of global total at just over 3.5 percent. Africa & Middle East suffered the biggest (though relatively minor) year-on-year drop, from over 4 percent to under 3 percent.
Looking into 2008
In a joint letter, Christine Juneau, Chief Operating Officer, John S. Herold, Inc., and Martin Lovegrove, Vice Chairman, Oil and Gas, Standard Chartered Bank, pointed out that after years of favorable conditions, "the industry has been facing rough seas. Access to opportunities has continued to become more restricted and securing approval for project and deal go-aheads has lengthened. Ironically, the industry had better margins at $30 oil than at the YE 2007 price of $96 per barrel/bbl."
Juneau and Lovegrove observed, "With access to resources remaining restricted and organic reserve replacement costs on the rise, this year companies will continue to look to grow through M&A&D. The asset market will remain highly competitive in the most sought after areas with increasing competition coming now also from the Sovereign Wealth Funds, particularly those in the Middle East, who entered the market with vigor for the first time in 2007. In addition to mergers to achieve scale, corporate consolidation may occur to improve the efficiencies of the industry, but this will likely only happen in any significant way if oil prices were to fall for a sustained period to below US$80 per barrel."
Founded in 1948, John S. Herold, Inc., an IHS company, is a specialized research and consulting firm focusing on valuation, strategy, and performance measurement of the world's leading oil and gas companies. Herold closely monitors the world's energy capital markets and the dynamic merger, acquisition, and divestiture market for energy assets. IHS (NYSE: IHS) is a leading global source of critical information and insight for customers in a broad range of industries. Its customer product and service solutions span four major areas of information: energy, product lifecycle management, environmental and security.
Harrison Lovegrove & Co. Limited is a leading oil and gas corporate finance advisory firm, which became part of Standard Chartered Bank in December 2007. Their combined advisory team has over 50 dedicated oil and gas professionals based in London, Houston, Washington, Calgary, Moscow, Perth, Dubai, Singapore and Kuala Lumpur. They advise oil & gas companies in developing their businesses through acquisitions, divestitures, swaps of upstream and midstream assets and subsidiaries, and the takeover and defence of listed companies. Standard Chartered also has a leading track record of providing acquisition and project finance and other investment banking products to oil & gas companies, principally in its footprint area of Africa, Asia and the Middle East.
Copyright (C) 2008 John S. Herold, Inc. All rights reserved. The information contained herein has been obtained from sources believed to be reliable, but John S. Herold, Inc., IHS Inc., Harrison Lovegrove & Co. Limited, and Standard Chartered Bank do not guarantee their accuracy or completeness. No information or opinions contained herein constitutes a representation or solicitation for the purchase of any securities of the companies mentioned herein. From time to time, JSH and/or its officers and employees may have long or short positions in the securities mentioned herein or during the past year may have transacted in securities of the companies mentioned.