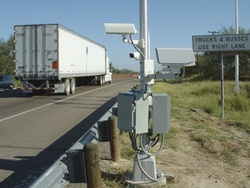 Canada's CBSA is committed to investing in a smart, secure border
KNOXVILLE, Tenn. (PRWEB) September 25, 2007
Perceptics, LLC, a security and traffic management company based in Knoxville, Tenn., said today that it has received a contract award with the Canada Border Services Agency (CBSA) to upgrade technology and equip additional inbound traffic lanes for its Integrated Primary Inspection Line Highway License Plate Reader (LPR) program. This contract and partnership with the CBSA and Canada Revenue Agency provide Canadian Customs officers with LPR systems that allow real-time queries to databases containing important and necessary information to secure Canada's borders.
Perceptics will execute a large-scale replacement of the LPR equipment used in Canada's Primary Automated Lookout System at border crossings as a part of the broad Canadian government Integrated Primary Inspection Line program. The new LPR equipment will correctly read the license plate number -- including stacked characters common on commercial plates -- and identify the province/state of origin on at least 95 percent of vehicles with a rear license plate, compress the image, and display important information instantly for the Border Services officers. Vehicles with a clear record of lawful trade and travel will go through quickly; vehicles of concern can be detained for proper clearance. The Perceptics LPR system uniquely captures the state and province identification, supports the addition of any new license plate designs from either country and meets CBSA authentication and authorization requirements. Important to the Canadian/American cold weather border climate, the LPR operates in temperatures ranging from -30(degrees)C to +50(degrees)C keeping the technology working effectively in the cold weather. Perceptics will also provide 24/7 customer service help desk support to keep these systems operational.
"Canada's CBSA is committed to investing in a smart, secure border," said Guy Lalonde, IT Director of CBSA's People Systems Divisions. "This significant upgrade to the Perceptics LPR systems will help facilitate the smooth flow of legitimate trade and travel, while keeping our border secure. This initiative will support our national security and public safety priorities. The new and additional LPR equipment will contribute to our ability to ensure the security and prosperity of Canada by managing the access of people and goods to and from Canada."
"The US / Canada borders are very important gateways for tourism and commercial trade between the two countries and Perceptics is proud and pleased to provide state-of-the-art LPR equipment and technology to the front line officers at the border," said John Dalton, president of Perceptics. "The officers will receive reliable, verifiable and easy-to-use information immediately from the LPR systems. Their use of this technology is critical in their daily fight to keep the borders secure. We are delighted to be their partners and their preferred vendor to date, and we look forward to a successful execution of this project and others in the future."
About Perceptics
Perceptics, LLC, the world's leading National Border Security and Traffic Management company, offers customers innovative and customized imaging technology solutions from a single source. With an excellent track record of proven performance in these most demanding applications and industries for 28 years, Perceptics leads the industry in providing port, border, container, and transportation lane security solutions to a variety of commercial, federal, and government agencies. Approximately 1,000 national border LPR lanes are in operation at sites throughout the world, including in the United States along the borders with Canada and Mexico, as well as at military bases, private factories and other facilities, special events, airports, embassies, government buildings, law enforcement facilities, and by law enforcement officers in the field. Perceptics also offers an Under Vehicle Inspection System, which complements the LPR system with a safe, rapid, and thorough method of examining the undercarriages of vehicles. Perceptics is committed to continued research and development providing systems with high levels of accuracy and durability while maintaining the flexibility to incorporate new features and enhancements. Along with system technologies, Perceptics also provides project management, technical expertise and customer-service programs aimed at exceeding the customer's expectations. Please visit http://www.Perceptics.com.