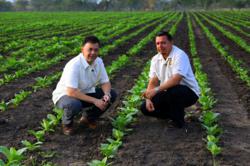 We apply the older standards…but if new techniques can help us do things better, I'm all over it.
Easton, PA (PRWEB) May 15, 2013
The all-new Cigar Advisor is an online cigar magazine that brings a fresh, irreverent, and down-to-earth perspective on all things cigars to thousands of smokers. In addition to educational cigar content and behind-the-scenes cigar industry articles from some of the business's top names, Cigar Advisor delivers an array of content about a variety of topics of interest to people who enjoy the cigar lifestyle. The magazine also features cigar reviews and ratings submitted by real smokers. Their May issue features an installment of Nick Perdomo's series on tobacco farming in Nicaragua.
Nick describes some of the old and new methods Perdomo Cigars uses to ensure their seedlings grow into strong, healthy tobacco plants with leaves that are rich in flavor:
Using oxen for plowing: "they make the best tractor – and do a much better job."
Conducting high-tech soil analysis: "the computer thinks it's a tobacco plant."
On state-of-the-art planting: it's the "transplanting machine from outer space."
Nick says that technology may sometimes take a back seat to tradition: "We apply the older standards…but if new techniques can help us do things better, I'm all over it."
Tabacalera Perdomo combines traditional Cuban planting and growing methods with state-of-the-art agricultural technology to produce cigar tobacco that is among the finest that hails from Nicaragua. And by marrying these old and new world farming methods, Perdomo says he is able to provide his customers "with a cigar they'll remember and return to again and again."
With this article, Cigar Advisor provides insight into tobacco farming that has never before been available to regular cigar smokers. Mr. Perdomo has never before discussed his methods so publically and openly, as many cigar manufacturers prefer to keep their specific processes a secret to protect their competitive advantage.
People interested in learning more about Cigar Advisor should visit CigarAdvisor.com where they can read the articles and sign up to be notified when new articles are released.
About Cigar Advisor Magazine
Cigar Advisor magazine is a digital publication created for real cigar enthusiasts who love tobacco and live the lifestyle. Cigar smokers are passionate about almost everything they do - whether it's the drinks they savor, the food they devour, the cars and motorcycles they dream of, the sports they're fanatical about or the women they love, Cigar Advisor shares those passions with a razor-sharp edge, soaking up each day and experience as if it were our last. Find that passion and more on display at CigarAdvisor.com.