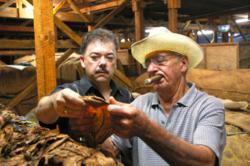 Jalapa leaf is a very good blending tobacco. Because it's thinner, it helps in combustion; plus, it has a very sweet flavor and aroma.
Easton, PA (PRWEB) June 19, 2013
The all-new Cigar Advisor is an online cigar magazine that brings a fresh, irreverent, and down-to-earth perspective on all things cigars to thousands of smokers. In addition to educational cigar content and behind-the-scenes cigar industry articles from some of the business's top names, Cigar Advisor delivers an array of content about a variety of topics of interest to people who enjoy the cigar lifestyle. The magazine also features cigar reviews and ratings submitted by real smokers. Cigar Advisor has just published a new installment in their series on producing tobacco plants from Nick Perdomo, President of Tabacalera Perdomo.
In "Growing, Aging & Blending," now available in the June issue of Cigar Advisor, Nick Perdomo describes in precise detail the steps he takes to produce the richest-tasting tobacco plants. "Like most things," Nick says, "it's not as easy as it looks, nor is it cheap; but if you do it right, the rewards are priceless." He details how his team works in with cooperation with the weather; and using some old school smarts, a little modern technology, and excellent timing, the decisions that are critical for producing a harvest that's worthy of becoming premium handmade cigars.
It may sound cliché, but Perdomo believes in the expression, "you reap what you sow." Nick remarks on how soil, water and climate affect a cigar's flavor, telling readers, "Sometimes you get lucky and find grounds that don't need fertilizer. You really have to have 'the right stuff,' and Nicaragua provides it all. The water we use from the river beds is excellent."
Once the tobacco has been picked, Perdomo notes that it must be cured and aged. "The minimum age of the tobacco in our cigars is three to six years old. During that entire period you're watching it constantly." And in his discussion on blending leaves, he stops short of giving away any family secrets – only that "Jalapa leaf is a very good blending tobacco. Because it's thinner, it helps in combustion; plus, it has a very sweet flavor and aroma."
Nick also shares his thoughts on "why do we, as human beings, enjoy tobacco?" He compares it to food: "Like most of what we eat, tobacco has starch, sugars, carbohydrates, and proteins. So, it's not surprising that we have this natural fondness for it. We like things that have great flavor and aroma. A tobacco leaf has flavor. It goes with our DNA, and it works."
About Cigar Advisor Magazine
Cigar Advisor magazine is a digital publication created for real cigar enthusiasts who love tobacco and live the lifestyle. Cigar smokers are passionate about almost everything they do - whether it's the drinks they savor, the food they devour, the cars and motorcycles they dream of, the sports they're fanatical about or the women they love, Cigar Advisor shares those passions with a razor-sharp edge, soaking up each day and experience as if it were our last. Find that passion and more on display at CigarAdvisor.com.