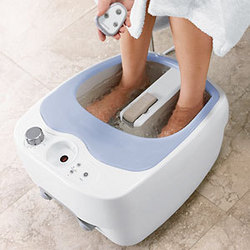 Merrimack, NH (PRWEB) April 28, 2009
Looking for the perfect gifts for Mom this year? Specialty retailer Brookstone says that the most popular gifts this year are focused on relaxation, comfort and everyday luxury that Moms can enjoy at home. The emphasis is on gifts that Mom can enjoy all year round, not just on Mother's Day. Hot gift items include soft robes, massagers, heated foot spas, sleep sound machines and micro-fleece blankets.
Shoppers can find unique gifts for Mom at Brookstone stores nationwide or online at Brookstone.com.
The 2009 Brookstone Mother's Day gift lineup below includes stress-relieving gifts ranging from $29.95 through $499, so you can find the perfect gift at every price.
Spa Comfort Women's Robe -- $79.95
Cozy, warm and ultra-plush. The Brookstone® Spa Comfort Robe is perfect for lounging and relaxing any time of day. It's made with their exclusive NapSoft® material--perhaps the world's most touchable fabric. The Moment you first touch this amazingly soft robe, you'll feel yourself instantly begin to relax. The Spa Comfort Robe is cut in a classic, comfortable-fitting wrap style with tie belt and two roomy front pockets. Luxuriously soft and easy to own: just machine wash and tumble dry (it gets even softer after washing). Available in a variety of soothing colors. One size fits most. It's the perfect get-cozy gift for Mom. (Item #569947)
Special Offer: Get a FREE pair of n•a•p® Socks ($20 value) with robe purchase. Ends 5/10/09.
n·a·p® Cuddle Blanket -- $45.00
Meet Mom's new favorite blanket. Perfect for relaxing, cuddling and napping any time of day or night, the Brookstone® n•a•p® Blanket is made from exclusive NapSoft® material. One touch of this amazingly plush micro-fleece fabric and Mom will instantly feel daily tension melting away. The Brookstone n•a•p® Cuddle Blanket is machine washable (it actually becomes softer each time you wash it) and is available in an assortment of cozy colors. Finished with cool satin piping. If you can't be there in person, send Mom a hug. Send her the Brookstone n•a•p® Cuddle Blanket, and an instant escape can be hers any time, anywhere. (Item #532440)
Special Offer: buy 1 n•a•p® Blanket and get the 2nd for 50% off. Any color, any style. (2nd item must be of equal or lesser value. Ends 5/10/09.
4-Piece Quilted Weekender Travel Set -- $49.95
Momma's got a brand new bag--and it's quilted! This 4-piece quilted luggage set by Brookstone® includes a spacious satchel plus 3 cosmetics bags. The satchel holds clothing and shoes, keeping everything neat with roomy interior pockets. What's more, the satchel also has an outside pocket that's just right for giving quick access to tickets, cell phone or keys. The three quilted cosmetic cases come in different sizes for toiletries, makeup and jewelry. The satchel fits in most airline overhead compartments. Each bag is fully lined and made of lightweight, stain resistant nylon. And because it's black, it goes with everything. Ciao, Momma! (Item #626184)
Special Offer: Get the Quilted Weekender Set for 50% Off. Regularly $99.95. Now just $49.95. Ends 5/10/09.
Heated Aqua-Jet Foot Spa® Massager -- $79.95
Powerful water jets. Built-in heat. A perfect escape. Treat Mom to a heated water foot massage with this Brookstone® heated whirlpool footbath. Two powerful hydro jets will help relieve tight muscles and soothe tired feet. Two therapeutic rolling nodes massage foot arches and stimulate reflexology zones. Built-in heating maintains a luxuriously warm 115-degree water temperature. A removable pumice stone exfoliates rough, dry skin on foot pads and heels. Adjustable heat and water speed. Cordless remote controls all massage functions without having to reach down to the massager control panel. This Brookstone foot massager is a true spa luxury Mom can enjoy at home any time she likes. (Item #516344)
Special Offer: Save $20. Heated Aqua-Jet Foot Spa Massager® regularly $99.95. Now just $79.95. Ends 5/10/09.
Tranquil Moments® Sleep Sound Machine -- $129.95
What does Mom really, really want? SLEEP. This Brookstone Sleep Sound Machine uses 12 clinically proven sound programs to help Mom achieve deeper states of sleep, relaxation and renewal. Tranquil Moments® sound programs are based on more than 23 years of scientific research, and include rhythms that gently encourage brainwaves to slow down and adopt the patterns associated with healthy, restorative sleep. Choose from 12 relaxing sounds, including ocean waves, rainfall, a summer chorus of crickets, authentic NASA space recordings, and soothing white noise. 30-, 60- or 90-minute auto shutoff or continuous play. Gradually slows playback tempo over a 20-minute period to lull you to sleep. Isn't it your turn to wish Mom a good night's sleep? (Item #596841)
2-Piece Lavender Aromatherapy Set -- $29.95
Mmmm. A soothing way to relieve eye, head and neck tension. The Brookstone 2-Piece Aromatherapy Set includes a plush eye pillow and neck wrap with removable hot/cold packs. The packs can be warmed in a microwave or chilled in a freezer to help relieve aches, tension and fatigue. The linseed inserts retain heat or cold for extended periods. Each removable pack holds body-conforming natural linseeds and lavender, which helps you relax even more deeply. The eye pillow and neck wrap are made of plush Brookstone® NapSoft® fabric, which feels great against the skin. Makes a wonderfully relaxing gift for Mom. (Item #627786)
OSIM® uSqueez® Calf and Foot Massager -- $499.95
Treat Mom to the world's best calf and foot massage. Tension and fatigue will positively melt away as she receives simultaneous foot, ankle and calf massage. uSqueez® delivers spa-quality foot massage that other home foot massagers just can't deliver. First, thick, cushioned, kneading discs deliver a feel-good squeeze to calves, ankles and feet. Then vibration (in 3 different intensities) penetrates deep into muscles to ease tension and fatigue. Finally, strategically positioned reflexology nodes stimulate vital acupressure points on the soles of your feet to revive and invigorate. Maybe Mom can't make it to her private masseur every day, but uSqueez® will make her feel wonderful right in her own home. (Item #551267)
Special Offer: Save $50 on OSIM® uSqueez Calf and Foot Massager. Reg. $499.95. Now $449.95. Ends 5/10/09.
iNeed® Lumbar Massage Cushion -- $59.95
Give Mom the Shiatsu back massager that fits into any chair. Whether she's hard at work at the office, paying bills at home, or just relaxing after a long busy day, Mom can now enjoy a deep-kneading Shiatsu massage any time she likes. The Brookstone® iNeed® Lumbar Massage Cushion straps to the back of any chair and features four dual-node rotating massagers. It sends soothing Shiatsu massage deep into tight muscles of your lumbar region to relieve aches, tension and fatigue. Includes AC adapter and zip-up travel carry case. A Brookstone lumbar back massage cushion makes a very thoughtful gift for the busy Mom in your life. (Item #565580)
About Brookstone
Brookstone, Inc., is an innovative product development company and specialty retailer of unique gifts. Brookstone operates 310 stores nationwide and in Puerto Rico. Typically located in high-traffic regional shopping malls and airports, the stores feature unique and innovative consumer products. The Company also operates a Direct Marketing business that includes the Brookstone catalog and an e-commerce website at Brookstone.com.
Contact:
Judy Lurie
603.577.8166
###