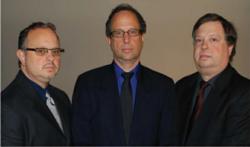 When customers came to our booth, my dad would spend oodles of time trying to solve a problem, even if it meant neglecting more profitable endeavors.
Long Island, NY (PRWEB) April 16, 2013
There is no doubt that Spiel has expanded their online presence as well as their online customer base. Their Youtube Channel is up and running, where customers can see many of Spiel's bindery machines in action. Earlier this week, Spiel also beefed up their double loop wire binders with their latest in the Rilecart models. Not long after enhancing their digital presence, Spiel Associates caught the eye of MyPrintResource Magazine where they were praised for their innovative bindery machine as well as their customer service.
In the article, heads of the company David, Saul, and Michael Spiel were named "the godfathers of customer service." They make it no secret that their father and founder of the company, Norton Spiel taught them everything they know about customer service. They noted that their father would recommend the right machine for the job every time, even if Spiel Associates themselves didn't have it at the time. Even at trade shows, Norton had a passion for solving bindery problems, even if it came at the cost of making a sale. David Spiel states: "My father loved solving bindery problems. He liked it more than selling, maybe because he was trained as an engineer. When customers came to our booth, my dad would spend oodles of time trying to solve a problem, even if it meant neglecting more profitable endeavors."
Route 72 Systems considers this a huge win for the company, especially since the article not only praises their customer service, but it also highlighted some of Spiel's best bindery machines, including The Coilmaster Jr., The Sterling Digimaster, and the Sterling Digipunch. Frank Markasovic of Graphic Image Corp., who purchased two Coilmaster Jr's, states: "Their equipment is reliable, their pricing is fair, and their service is tremendous." Route 72 Systems are confident that Spiel's willingness to spread content and engage with their customer base through various outlets will set them apart from their competitors. CEO of Route 72, Jim Alamia, states: "We couldn't be happier for Spiel. They work hard to satisfy their customers and develop superior bindery equipment. Their praise is well deserved and we look forward to marketing their products and their brand."