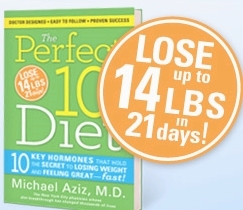 While other diets continue to say, eat less or exercise more, eat fats or no carbs, we are the diet with a brain. We take into account the latest research and impact of hormones on waistlines and overall health
New York, NY (PRWEB) July 28, 2010
The Perfect 10 Diet: 10 Key Hormones That Hold the Secret to Losing Weight and Feeling Great--Fast, published by Sourcebooks, joined probably hundreds of diet books that stack bookstore shelves in January 2010, but it is very different and groundbreaking because it targets the hormones that hinder weight loss. The Perfect 10 Diet goes against all the popular diets by explaining how these diets disturb hormones and can even endanger one's health. The Perfect 10 Diet has been a top-selling diet book in 2010 with thousands of followers adopting the diet. "It is not just about the outside; it is about total health achieved when hormones are in tune with one another. This is a diet that challenges conventional wisdom, improves health, and helps people lose weight the smart way. You can never win your health or lose weight permanently if you bet against your hormones, and that is why all the popular diets are doomed to fail," explains the author, Dr. Michael Aziz.
High insulin levels from excess sugar have played a major factor in leading Americans down the path of obesity and disease. High-carb diets are to blame. The Perfect 10 Diet explains that while low-carb diets may lower insulin levels, they disturb other hormones such as the thyroid and growth hormone, causing the metabolism to eventually slow down. More troubling, low-carb diets have been linked to increasing chances of cancer by encouraging dangerous types of protein choices.
The Perfect 10 Diet is different with its balanced approach from both low-fat and low-carb diets. It makes hormones work to our advantage. As a result, people see results fast. The average weight loss is up to 14 pounds in 21 days. Some of the Perfect 10 followers went on to lose 200 pounds and have been featured on TV. The benefits of hormonal balance go far beyond a smarter weight loss method, as hormones also fight off disease. This makes The Perfect 10 Diet ideal even for people who do not want to lose weight, but who simply want to preserve or improve their health.
Sometimes, people don't see big weight loss results due to a sluggish metabolism caused by insulin resistance, an undiagnosed thyroid issue, or low sex hormones, so, The Perfect 10 Diet started a customized approach to test one's hormones. One is told if a hormonal imbalance exists and is hindering weight loss so that it can be addressed immediately.
Many of these hormones that The Perfect 10 Diet targets and tests for are not routinely checked by doctors as this information has only recently come to light. As a result, people suffer from weight gain and the consequences related to such hormonal imbalances. By looking at one's hormones, the Perfect 10 Diet becomes the only diet and first on the market that balances and tests for hormones. "While other diets continue to say, eat less or exercise more, eat fats or no carbs, we are the diet with a brain. We take into account the latest research and impact of hormones on waistlines and overall health," says Dr. Aziz.
Dr. Aziz added, "It took me eight years to write The Perfect 10 Diet. It is truly a clear, succinct, and practical diet that can change the way we look at obesity as a problem of eating too much." The book is available in bookstores and large retailers nationwide, as well as in many other foreign countries. The book is written in English, but many foreign language translations are in progress.
Dr. Aziz continues to reach more people by free articles and newsletters on http://www.ThePerfect10Diet.com. The site also provides a free bonus chapter and a blog where visitors can share recipes, ideas, success stories, and provide feedback. To sign up for the customized approach, simply email your name and contact information to Perfect10 diet(at)aol(dot)com.
About Dr. Michael Aziz:
Michael Aziz, M.D., author of The Perfect 10 Diet, is an attending physician at Lenox Hill Hospital in New York City, where he has also maintained a private practice since 1998. Dr. Aziz is the founder and director of Midtown Integrative Medicine, a practice that focuses on traditional, alternative, and complementary medicine. Dr. Aziz has appeared as a speaker in front of many prestigious groups nationally and internationally. He is also well-known for his appearances on many radio and television shows including The View, The Doctors, and GMA Health.
###