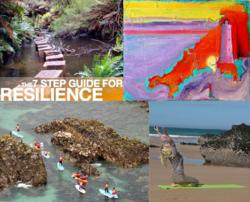 "A one-stop shop for expanding your horizons, upgrading your aspirations and stretching your senses."
- Simon Calder, BBC Travel Presenter
(PRWEB UK) 24 September 2012
AdventureTemples CEO Rob Pendleton knows that a recession is hardly the best time to launch a new corporate retreat service. So why has he done just that? Well, speaking at a recent forum for business leaders, he explained:
"The world of Business has entered a period of introspection, where we collectively have to decide what the end objective of all our 'busyness' actually is. Profit for its own sake has driven negative behaviours and landed the global economy in real trouble. A new wave of leaders is rising who want to get back to the basics of increasing well-being through business. We want to lead happy staff, who trust us, and are proud to make products and deliver services that customers both want, and are pleased to buy, because the benefits clearly outweigh the costs. But being a person who can create that company culture takes true self awareness, openness to ideas, minimal ego and a laser-like focus on what is good for your people. Fortunately, I have met someone who makes becoming that person much easier. And, because you cant do it while you are working from 8 'til late, I have turned his course into a 3-7 day activity escape in Cornwall. We won't make a fortune in this climate – but it is just the right thing to do and that makes me proud."
The other key member of the team is Nicolaas Engelbertus – a Dutch entrepreneur, Cornish business owner, surfer and expert personal development coach. He is also the internationally published author of 'The 7 Step Guide for Resilience'. The details of their course are a closely guarded secret and tailored to every client, but it uses and builds on the practical techniques explained in the book, and mixes in a range of intensive outdoor activities and experiences; all bespoke and privately arranged by AdventureTemples' Adventure Butler Service.
The retreat is available in an intensive long-weekend format and a relaxed full week. It can be designed for a team of executives at one time or an individual leader. A range of luxury cottages, B&B country houses and boutique hotels are available through the Butlers, and any family members who join the stay will be well entertained by the service, to give participants time to focus. 3-day packages start from £995pp, including accommodation, activities and private coaching. The 7-day version costs from £1995pp. Flights to nearby Newquay Airport take around 1h from London.