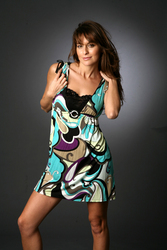 I am thrilled to officially launch Perfect Cami
Los Angeles, CA (PRWEB) October 22, 2009
Introducing the Perfect Cami which makes its debut in time for the upcoming holiday season and will be the gift item of choice for the fashion conscious woman. This uniquely-designed mini cami with over 40 different styles, colors and fabrics including original designs with Swarovski crystals that covers a plunging neckline in an stylish manner. The Perfect Cami is a must have as it doubles a wardrobe and provides instant style and appeals to women of all sizes including those with a full figure.
It's easy to wear, simply slips over your head and hooks to the bra strap, eliminating extra fabric and straps of a traditional camisole. The versatility and comfort of the Perfect Cami takes you from casual wear to the office and then a night out on the town. Each cami comes with its own travel pouch. The Perfect Cami retails from $22 - $45 and is available on line at http://www.perfectcami.com.
"I am thrilled to officially launch Perfect Cami," said Debbie Rubio, CEO and creative genius for Perfect Cami. "I am confident that once a woman wears one it will quickly become one of her favorite wardrobe accessories. Whether it's a plunge top, sweater, dress blazer, black tie affair or even a warm up suit, the Perfect Cami is just the perfect answer for just that little extra coverage that is needed, in a simple yet stylish manner."
From basic solid or lace, to our signature Collection design, to a dressy and holiday look, the Perfect Cami has an appeal for every woman in any size. In addition, a bridal line has been created with custom-designed camis to fit a bride's color scheme; the perfect bridal party gift.
"We are proud to cater to women of all sizes, from extra small to plus-3, we want all women to have the opportunity to feel good about themselves with the Perfect Cami," Rubio added. "Best of all, it travels easily from your purse to your luggage and most important fits into your budget and lifestyle. The Perfect Cami is proudly assembled in the U.S.A.
The Perfect Cami is the creation and passion of Debbie Rubio and Ann Victor who have worked together for nearly 20 years in the areas of corporate marketing and public relations. The duo has teamed up with this niche item that is destined to become a fashion must-have.
About Us:
Debbie Rubio - CEO & Creative Genius
Known to her friends as The Divine Miss R, Debbie has had a passion and flair for fashion starting at the tender age of three. Like many young girls she began with styling her dolls and quickly graduated to dressing her friends and family, a tradition that continues to this day with an innate knack for finding just the right combination of clothes and accessories to ensure a flattering and dynamic look for any figure.
Born in Boyle Heights, just east of downtown Los Angeles, Debbie excelled without any formal training. What is most amazing is that she can often be found at various retail establishments in L.A. from the major discounters to the high-end retailers schooling both sales people and grateful customers on fashion and style.
Always in search of the perfect piece of clothing, shoe or accessory the one item that eluded her expansive wardrobe was just the right cover up to use for a low cut sweater or blouse without all the extra fabric that would drive her crazy. Thus, her creativity went into overdrive and she designed her first "mini cami" a strapless undergarment that easily affixed to a bra strap and that proved to fit and cover perfectly ultimately leading to the launch of the Perfect Cami.
Prior to Perfect Cami, Debbie had a very successful career in corporate sports marketing and public relations working on many Fortune 500 campaigns.
Follow Debbie's rants and ravings on twitter
Ann Victor - President, Head of Everything
For nearly 20 years, Ann has been Debbie's official Barbie Doll. Debbie even has better knowledge of Ann's wardrobe than she does. Once dressed and ready to go, Ann brings a strong marketing and business background to Perfect Cami. Directing the business operations of the company, she is responsible for the long-term strategic planning and day-to-day operations which includes marketing, sales and customer relations. Her background also includes a successful career in grass marketing, corporate public relations, special events in publicity.
# # #