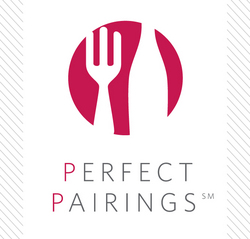 By ordering a Perfect Pairings item, diners will treat themselves to a delicious taste experience while also brightening the lives of others in their own community.
Los Angeles, CA (PRWEB) March 18, 2010
This April, the Perfect Pairings Menu Campaign brings together 50 of Los Angeles' most talked about chefs and restaurants to raise funds for St. Vincent Meals on Wheels. Throughout the month, participating restaurants will feature special food + beverage pairings on their menus tagged with the Perfect Pairings fork-and-bottle logo. Pairings may involve an alcoholic or non-alcoholic beverage paired with a one-of-a-kind dish, a bar or prix fixe menu, or the chef's signature specialty. When these exceptional items are ordered, a portion of proceeds is directly donated to St. Vincent Meals on Wheels. St. Vincent Meals on Wheels is the nation's largest privately funded Meals on Wheels program, delivering meals, human contact and other vital services to 2900 people in Greater Los Angeles every day.
Detailed information regarding the April Campaign, including the list of participating L.A. restaurants can be found at http://www.PerfectPairings.org. The Perfect Pairings Menu Campaign is made possible thanks to the sponsorship of FIJI Water, Champagne Nicolas Feuillatte, Patrón Spirits, Gayot.com, and the Southern California Gas Company. For delicious pairing ideas and other news about our beverage sponsors, visit http://www.PerfectPairings.org.
CONSUMER PROMOTION
During April, individuals who post 5 or more messages on the wall of the Perfect Pairings Facebook Page, telling us about 5 different pairings at our participating restaurants, will be eligible to receive a $50 dining gift certificate. The posting must include: the words "Perfect Pairings"; the restaurant name; and the pairing combination. Photos of the pairing are encouraged but not required. Click the Facebook logo on the Perfect Pairings website to directly link to our Facebook Page.
We invite all foodies to follow us on http://www.twitter.com/PerfectPairings and to join our Facebook Page http://www.facebook.com/pages/Perfect-Pairings/348088852000, where postings of pairing recommendations and images of participating chefs, restaurants, diners and dishes are invited.
WHO'S PAIRING
At the time of this release, participating restaurants include:
A.O.C., The Bazaar by José Andrés, Bar Pintxo, Bistro LQ, The Blvd at the Beverly Wilshire, Campanile, Canelé, Cecconi's, CHAYA (3 locations), Comme Ça, Cube, The Farm of Beverly Hills (3 locations), FIG at the Fairmont Miramar, Ford's Filling Station, The Foundry on Melrose, Geisha House, Gordon Ramsay at the London, Grace, The Grill on the Alley (3 locations), The Hungry Cat, Jar, Joe's Restaurant, Josie, Katsuya (4 locations), Ketchup, Lola's, Lucques, Mélisse, Michael's, Nobu West Hollywood, the Oak Room, Oliverio, Parq at the Montage, Philippe Chow, Pizzeria Ortica, RH at Andaz, Simon LA, Sona, Vermont, Vertical Wine Bistro, Whist, and XIV by Michael Mina.
Click on the "Who's Pairing" tab at http://www.perfectpairings.org for a list and click-through details concerning all current restaurants.
WHAT'S BEING PAIRED
Diners will find an array of pairings available for their enjoyment. To date, over a dozen different ethnic cuisines have been paired in over 100 Perfect Pairings-tagged items. In addition to food and wine pairings, pairings with spirits, specialty cocktails, beers and other beverages are expected. Throughout April, foodies can enjoy news about featured pairings and other pairing ideas on the "Pairing Updates" page and the dedicated sponsor micro-sites (click through sponsor logos) at http://www.PerfectPairings.org.
PERFECT PAIRINGS BACKGROUND
Perfect Pairings is an annual cause marketing campaign that brings together talented culinary professionals and exceptional brands. At its heart (and palate) is a passion for creating delicious food and beverage pairings crafted by culinary experts. At its soul is a commitment to raising awareness and funds for food and hunger-related causes. To date, participants include the restaurants of notable toques Daniel Boulud, Chris Cannon, Andrea Cavaliere, Philippe Chow, Josiah Citrin, Scott Conant, Traci des Jardins, Alain Ducasse, Neal Fraser, Steven Fretz, Suzanne Goin, Suzette Gresham, Uechi Katsuya, Nobu Matsuhisa, Joe Miller, Michael Mina, David Myers, Mirko Paderno, Charlie Palmer, Mark Peel, Alfred Portale, Kerry Simon, Hiro Sone and Suzanne Tracht among others.
"Pairings are among chefs' favorite ways to showcase their talents," explains Kevin Mark Lodie, founder and Executive Director of Perfect Pairings. "We see this at the Food & Wine Classic in Aspen, at South Beach and at events based on pairing such as the James Beard Foundation's Chefs & Champagne and Charlie Palmer's Pigs and Pinot. Spirit brands are also increasingly using the gastronomic angle of pairings to reposition their brands, shape product perceptions, and promote new ways to enjoy their products. By making pairings our Campaign's premise, we're able to excite the chefs, the brands, and the public whose purchases raise funds for Meals on Wheels. Everyone benefits."
Perfect Pairings launched its inaugural Campaign in 2009 in New York City, San Francisco and Southern Florida. Now in its second year, Perfect Pairings debuts in Los Angeles April 2010, benefiting St. Vincent Meals on Wheels and, again, in New York City in October 2010 benefiting Citymeals-on-Wheels.
# # #