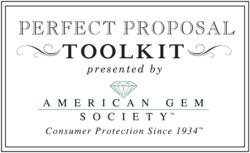 a quirky collection of tips and suggestions for planning the perfect proposal, as well as a contest to win a trip to the newlywed capital of the world, Las Vegas
Las Vegas, NV (PRWEB) February 08, 2013
Time is running out to plan the perfect Valentine's Day proposal, and American Gem Society (AGS), the country's preeminent jewelry trade organization dedicated to consumer protection, launched the Perfect Proposal Toolkit – just in time. The Toolkit, available through February 15, 2013, offers a quirky collection of tips and suggestions for planning the perfect proposal, as well as a contest to win a trip to the newlywed capital of the world, Las Vegas.
Perfect Proposal Contest
Through a partnership with Vegas.com, The Official VEGAS Travel Site™, the Perfect Proposal Contest gives entrants the opportunity to win a three-day/two-night trip to Las Vegas (airfare, hotel, show tickets and dinner,) along with a $1,000 gift certificate, valid at any of the 1,700 AGS member jewelers in the country. Ideal for those who want to get married, or, spend a weekend honeymoon in Las Vegas. Full contest rules are listed on the contest website.
Perfect Proposal Hotline
The hotline, 1-855-GROOM2B (476-6622), provides recorded recommendations including tips on planning the proposal, how to select a quality diamond and what to do if things don't go as planned.
Perfect Proposal Website
Located at americangemsociety.org/Groom2B, the online resource offers fun and unique suggestions for traditional and non-traditional proposals, recipes for romantic dinners, a list of the top mistakes to avoid when proposing, proposal trends, and many more tips on Pinterest and Twitter.
"Our existing online resources provide recommendations on how to shop for the highest quality jewelry from the best jewelers in the country," said Ruth Batson, executive director and CEO of American Gem Society. "The AGS Perfect Proposal Toolkit is a perfect fit with what our visitors look for, especially around Valentine's Day—the busiest time of year for ring shopping and question popping!"
About American Gem Society
The American Gem Society, founded in 1934 by Robert M. Shipley, is a not-for-profit trade association dedicated to proven ethics, knowledge, and consumer protection within the jewelry industry. The American Gem Society is a professional organization awarding credentials for its members, who are held to the highest ethical and professional standards in the industry and must pass annual recertification examinations to maintain their titles. Less than five percent of jewelers in the country have met the exacting requirements necessary for membership.