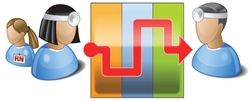 These new capabilities help doctors and nurses save time and provide better care
Knoxville, TN (PRWEB) March 31, 2010
Jefferson Regional Medical Center (Pittsburgh, Pa.) and Blount Memorial Hospital (Knoxville, Tenn.) are the first hospitals in the country to use PerfectServe's enhanced clinician-to-clinician communications system, which eliminates errors and enables nurses and doctors to better coordinate care.
The PerfectServe system was developed based on years of research and real world experience with nearly 14,000 physicians in 24 hospitals and 2,500 practices nationwide. It addresses a long-neglected problem--the communication breakdowns that often occur when clinicians need to connect with on-call physicians. (For more on this topic, see "Connecting with Physicians: the Hospital Problem No One Talks About.")
PerfectServe's new clinical communications system has four capabilities to benefit physicians, nurses and other clinicians:

A physician-centric, rules-based communications workflow engine that lets physicians filter and control the communications they receive based on their practice workflow and personal contact preferences.
A single network platform and directory that connects every medical staff member with easy access via voice, Web and mobile interfaces.
An integrated practice component that enables physicians to control the flow of communications received through their offices.
Mobile tools and a 24/7 help center staffed with clinical communications experts to make it easy for physicians to keep their rules current and optimize their communications workflow.
"These new capabilities help doctors and nurses save time and provide better care," said Terry Edwards, chief executive officer of PerfectServe. "We have further enhancements in the works as we continue to reinvent clinical communications."
PerfectServe facilitates fast, accurate and reliable communications because workflow rules, call schedules and contact preferences for every physician are built into the system.
With PerfectServe's advanced speech technology, clinicians simply dial a single number and speak the name of the physician they wish to reach. The system then automatically routes the call according to the physician's instructions and rules for that day and time.
Physicians can filter calls and messages based on attributes such as the originating caller, facility and department, or the reason for the call (e.g., consult, new admission, emergency). They can receive these on their cell or home phones (e.g., by voice, e-mail or text message) or pagers.
"Fast and direct communications between physicians, nurses and other clinicians leads to good decisions and better care," said Dr. Richard Collins, vice president of medical affairs at the 373-bed Jefferson Regional Medical Center. "With PerfectServe, the response time of our on-call physicians has improved significantly. And our physicians like the fact that it's so easy to use and helps them be more efficient."
"I was eager to switch to the new PerfectServe system and get calls on my cell phone instead of my pager, which has never worked all that well," said Dr. Deaver Shattuck, a hospitalist and vice chief of the medical staff at Blount Memorial. "It's easily the best messaging system I've ever seen."
Two other health care networks, Munroe Regional Medical Center in Ocala, Fla., and St. Elizabeth Healthcare in Northern Kentucky, are expected to go live with the new version of the PerfectServe system by the summer of 2010. In the next several months, PerfectServe's new Web and iPhone interfaces will be released and enable clinicians to contact physicians and monitor the status of voice, e-mail and text messages.
About PerfectServe
PerfectServe is an intelligent clinical communications system that routes calls and messages to the right doctor, at the right time, while giving physicians complete control over how they are contacted. Hospitals that use PerfectServe improve the coordination of care and reduce risks. They also improve physician satisfaction, which enhances revenues and tightens physician alignment.
By giving clinicians a more efficient and reliable way to connect with each other, PerfectServe provides practical solutions for minimizing communication breakdowns, which the Joint Commission has identified as the single greatest contributing factor to sentinel events and delays in care in U.S. hospitals.
Based in Knoxville, Tenn., PerfectServe processes more than 25 million clinical communication interactions each year involving nearly 14,000 physicians. A recent physician survey shows that 93 percent would recommend PerfectServe to their colleagues. For more information, visit http://www.perfectserve.com.
###