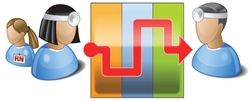 We need to start to focus not on the most exotic examples of information sharing, but on the more simplistic ones.
Knoxville, TN (PRWEB) July 29, 2010
Now that the CMS has released its final rule on the "meaningful use" criteria for Electronic Medical Record (EMR) systems, what should hospitals do next? According to William Bria, president of the Association of Medical Directors of Information Systems (AMDIS), "We need to start to focus not on the most exotic examples of information sharing, but on the more simplistic ones."
A new white paper from PerfectServe, "EMRs and the 'Last Mile' of Clinical Communications," shows how hospitals can heed this advice and get a "quick win" on their EMR initiatives. It focuses on a long-standing problem--the deficiencies in the "last mile" of the communications continuum when clinicians need to quickly connect with each other to determine the best course for patient treatment.
"Most hospitals will have some difficulty trying to contact physicians at least several times a day, and such delays, errors and miscommunications can sometimes put the patient at risk," said Terry Edwards, chief executive officer of PerfectServe. "With all the attention given to EMRs, we felt it was important for hospital executives and physicians to be aware that they can do something right now to fix this common but neglected problem. And by doing so, they would not only increase physicians' satisfaction, but also help gain their support for EMR initiatives."
The white paper features counsel and commentary from several notable experts in health technology, physician engagement and medical informatics. These experts include Pam Arlotto, the former national president of the Healthcare Information and Management Systems Society (HIMSS), and retired Major General Elder Granger, M.D., who led the largest U.S. and multinational battlefield health system in our recent history during the Iraq War.
In addition, the paper has links to related resources, such as a Cisco Systems report on "Challenges in Healthcare Communications," which estimates that the financial cost of communication inefficiencies to U.S. hospitals exceeds $10 billion annually. Other links include a backgrounder on "Connecting with Physicians: The Hospital Problem No One Talks About" and a video on how PerfectServe helps hospital clinicians quickly and easily connect with the right physicians, at the right time, in the right way.
About PerfectServe
PerfectServe offers intelligent voice, online and mobile clinical communication solutions that route calls and messages to the right doctor, at the right time. It gives physicians complete control over the communications they receive while enabling hospital clinicians to expedite and improve care coordination. Based in Knoxville, Tenn., PerfectServe processes more than 30 million clinical communication interactions each year involving more than 14,000 physicians in 154 markets across the U.S. For more information, visit http://www.perfectserve.com.
###