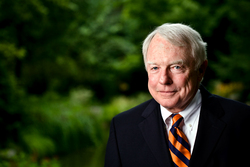 Knoxville, TN (PRWEB) September 17, 2009
Robert Fanning was recently named to the advisory board for PerfectServe, a healthcare communications company. The board provides guidance on innovative ways to leverage PerfectServe's physician-contact network serving physician practices and hospitals nationwide.
Since 2000, Fanning has been involved as an interim hospital chief executive officer and chief operating officer for troubled hospitals, including St. Vincent's Catholic Medical Centers in New York.
Prior to 2000, Fanning was instrumental in the development of a four hospital system, Northeast Health System.
From 1969 to 1980, Fanning held senior executive positions within Massachusetts hospitals, including The Children's Hospital in Boston where he was chief operating officer.
Fanning has served as chairman of the American College of Healthcare Executives, the Massachusetts Hospital Association and the Massachusetts Health & Educational Facilities Authority. Since 1985 he has been a board member of Healthcare Property Investors, the largest publicly traded healthcare real estate investment trust. He is also an advisor to private healthcare companies.
Fanning received a master's in business administration from Xavier University in 1970 and a bachelor's degree from Michigan State University in 1967.
The PerfectServe physician-contact network automatically routes calls and messages to the right doctor, at the right time, in the precise way each physician wishes to be reached. Communication occurs faster, with greater efficiency and safety, because PerfectServe assembles and maintains the communications workflow for every medical staff physician, for every moment of every day. The company currently serves over 12,500 physicians in 150 markets across the U.S. For more information, visit http://www.perfectserve.com.
###