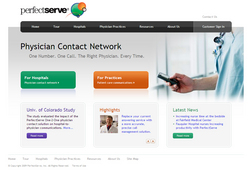 Knoxville, TN (PRWEB) August 14, 2009
PerfectServe, Inc., a Knoxville-based patient-care communications company, announced the launch of its newly designed and updated Web site.
The new site, http://www.perfectserve.com, officially went live on Aug. 3.
With a totally fresh appearance and format, the new Web site contains expanded information on its hospital and private practice services, which improve the accuracy, safety and efficiency of patient-care communications.
The site has also undergone significant improvement in the areas of content, navigation, and design. Notable content changes include sections for hospitals and private practices, client success stories, multimedia tours and videos, and an e-newsletter.
The PerfectServe physician-contact network automatically routes calls and messages to the right doctor, at the right time, in the precise way each physician wishes to be reached. Communication occurs faster, with greater efficiency and safety, because PerfectServe assembles and maintains the entire communications workflow and contact preferences for every medical staff physician, for every moment of every day. The company currently serves over 12,000 physicians in 150 markets across the U.S. For more information, visit http://www.perfectserve.com.
###