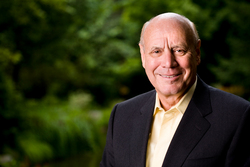 Knoxville, Tenn. (PRWEB) September 28, 2009
William Fuchs was recently named to the advisory board for PerfectServe, a healthcare communications company. The board provides guidance on innovative ways to leverage PerfectServe's physician-contact network serving physician practices and hospitals nationwide.
Recently retired from Catholic Healthcare West (CHW) as president of group operations in Arizona, Nevada, and portions of California, Fuchs is currently a consultant in Richmond, Va.
Fuchs has extensive experience in senior executive positions for profit and not-for-profit health systems. He spent eight years at Jackson Memorial in Miami, and then joined the Hospital Corporation of America where he was the founding executive director of H Lee Moffitt Cancer Center at the University of South Florida.
Fuchs has held other senior-level positions at hospitals and corporations including St. Joseph's Medical Center in Lexington, Ky., NovaCare, and the Hunter Group.
Fuchs received a master's in healthcare administration and bachelor's degree from Xavier University.
The PerfectServe physician-contact network automatically routes calls and messages to the right doctor, at the right time, in the precise way each physician wishes to be reached. Communication occurs faster, with greater efficiency and safety, because PerfectServe assembles and maintains the communications workflow for every medical staff physician, for every moment of every day. The company currently serves over 12,500 physicians in 150 markets across the U.S. For more information, visit http://www.perfectserve.com.
###